Xiaomi, one of the world's largest smartphone vendors, launched a tablet with NVIDIA Tegra K1 mobile processor.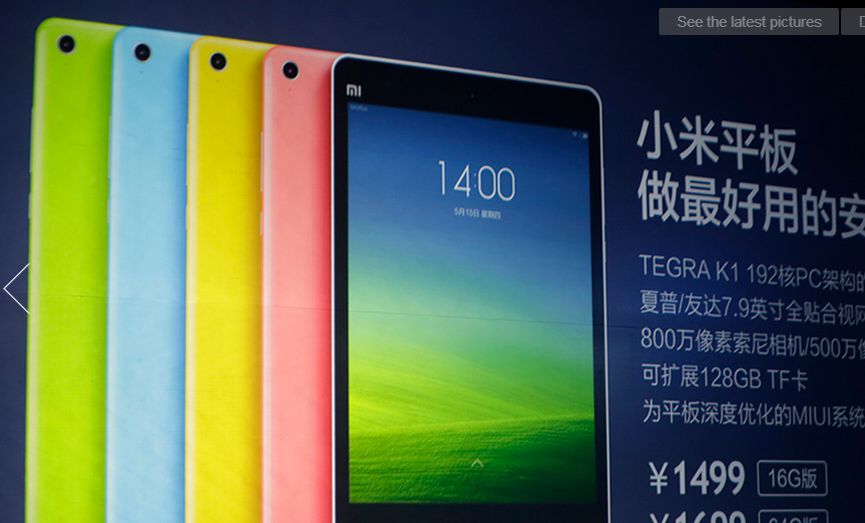 The MiPad is the culmination of four years of planning and hard work, the result might overshadow the IPad… This tablet features a 7.9-inch display with 2,048 x 1,536 resolution. Its 6700 mAh battery means its good for up to 1300 hours of standby time, 86 hours of music playback, or 11 hours of video streaming. It comes with 2 GB of RAM and 16 GB, or 64 GB on-board memory – and a microSD slot for expandable storage. It also captures amazing photos and perfect selfies with 8 MP rear and 5 MP front cameras…
This tablet incorporates the powerfull processor NVIDIA's Tegra K1.It's the second time that Xiaomi works with NVIDIA company. They previously worked together to launch the flagship Mi3 smartphone – the first Tegra 4 phone. Xiaomi sold 100,000 of them in under 90 seconds last October.
Inside the Mi Pad, users scan enjoy benefits from the 192 core mobile processor, Tegra K1. The 'K' in K1 stands for Kepler. That's the parallel processing GPU architecture found in the world's most powerful supercomputers.
As a result, Tegra K1 offers visual and parallel computing capabilities never seen in mobile devices before. Tegra K1 supports the most advanced graphics technologies – including OpenGL 4.4, OpenGL ES 3.1, and DX12.
Those are the same standards used in PCs and next-gen consoles. That means developers can bring the latest games to mobile devices. Tegra K1 already runs Unreal Engine 4, the world's most advanced game engine. So, games with intense graphics, like Trine 2, play flawlessly.
The Mi Pad will be available in China starting in June as an open beta – select fans will get the option to go hands-on with pre-production units. It will retail for around $240 (16 GB) and $270 (64 GB).