Renault has equipped its new state-of-the-art simulation facility in their development site with 16 Sony SXRD 4K projectors. It boasts an impressive 4096 x 2160 visual display can deliver up to 70M pixels; it is said to be the most immersive visualisation tool for car development yet.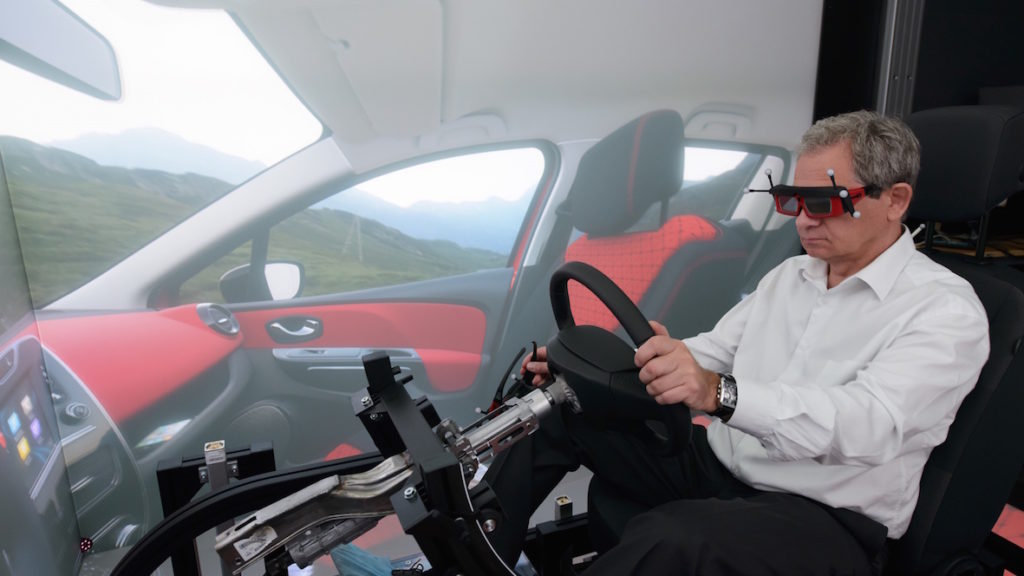 Background
The Renault engineers at the Technocentre, the Group's vehicle development site in Guyancourt, outside Paris, have been working on a new simulator that replicates the experience of driving a traditional car. The simulation allows the engineers to observe and interact with a fully digitised vehicle, and helps engineers and designers sit behind the wheel of a new model during the development process. The simulator uses a working tool known as CAVE ™ (Cave Automatic Virtual Environment) technology that simulates fully rendered 3D landscapes with 70 million 3D pixels and a computing power of several dozen teraflops.
The Challenge
CAVE™ technology allows for the display of the simulation to be controlled by the movement of the user inside the space. This is achieved by using motion capture technology to track the users head in real time. Having a head mounted display would mean there is a limited field of vision which is not ideal to accurately simulate the experience of driving. It was important for Renault to use a display that would not only take advantage of a full field-of-view, but also one that could provide a high resolution to enhance the experience of a realistic driving simulator.
Sony Solution
Renault has equipped the simulation chamber with 16 SRX-T105 4K projectors at 5,500 Lumens, projected on five sides to fully simulate the experience of sitting behind the wheel of a real car in a system that delivers up to 70M 3D pixels, the highest resolution of any driving simulator to date. Mechdyne, along with Sony installed the projectors and provided a clear workflow solution for Renault. "While there were some other options using newer DLP projection, ultimately, the Sony system delivered the fastest performance and the highest resolution, both of which were critical factors," explained Richard Cashmore, Vice-President of Mechdyne.
Results
Renault has been enthusiastic about the use of the CAVE™ system in their research and development. According to Andras Kemeny Head of Renault's Virtual Reality and Immersive Simulation Technologies Group, "We were aware of CAVE™ technology from the beginning, around 1990… At the time, the general consensus at Renault was that the image quality and frame rate were not sufficient for our use." It was only until Kemeny saw the potential of CAVE™ through a 4K projection that they changed their stance: "It was really impressive, and we felt it was finally time to move forward with CAVE™". Mechdyne was chosen to create the perfect solution for Renault, selecting the SRX-T105 as their projector of choice for this project. "The Sony projector Mechdyne specified was originally designed for cinema-based solutions." Kemeny continued, "Calibrating multiple projectors was not something Sony had addressed. Sony provided us some data, and then our engineers at Renault and Mechdyne collaborated for several months to design a calibration protocol. We've been happy with the results."
Why Sony was selected ?
The SXRD 4K projector is a first choice for many industry leaders, boasting an impressive 2,500:1 contrast ratio and 4096 x 2160 native resolutions. It is adaptable for multiple application uses in addition to automotive design, including cinemas, museums, and planetariums to showcase impressive, detailed content the way it was intended to be seen. The SRX-T105 projects 5.5K Lumens through its two 1Kw lamps using Sony's SXRD technology. The technology used can deliver the content through four different sources on a split screen which was the perfect solution for the Renault CAVE™ chamber project.
Quotes:
"Originally, the relationship was that of client and provider, but over time it really evolved to where we were all part of the same team," Kemeny says. "I think that's one thing that's unique about our approach," Cashmore stated.
"We really try and look at the project through the eyes of the end user. We can recommend what we feel is best for them, given their goals and the technologies available." Though initially, CAVE™ was created to simulate internal ergonomic design, the technology has become popular across the whole organisation. "One thing that is very exciting for us is the fact that CAVE™ is now being embraced by various departments within Renault," he says. "Ultimately, this is enabling us to build a better vehicle."