For the sixth running year, SATIS has presented its 2019 awards to tech innovations with high impact on the market. Members of the public first voted on Mediakwest's website, picking two winners among 58 competing services and products in the event's categories: Production & Filming, Post-Production, Broadcast & Distribution, and Services. Then, on November 5, during SATIS, the Mediakwest editorial staff awarded 8 prizes and 3 special prizes.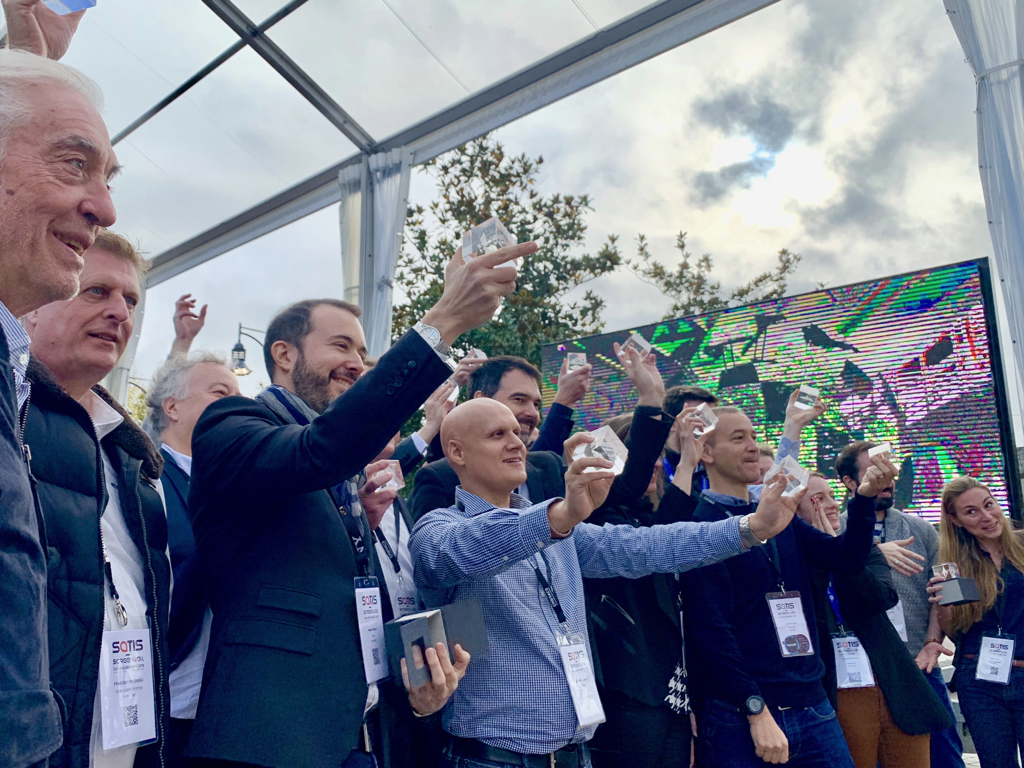 SATIS-Screen4All 2019 Awards — Mediakwest editorial prize
From the 58 products competing for the 2019 SATIS-Screen4All awards in the four categories (Production & Filming, Post-Production, Broadcast & Distribution, Services), journalists from Mediakwest selected 8 products and services for a prize, along with 3 special prizes including—for the first time—one for an innovative integration project.
• Production & Filming
– LORA POPCAST / LORA SOLUTIONS: a ready-to-use production server allowing you to build your LIVE with simple and pre-configured tools.
– PXW FX 9 / SONY: a 6K Full Frame shoulder camera with E-mount with 4 audio channels, the first in its category.
– Favourite Choice: A32 DANTE / FERROFISH: Ferrofish A32 DANTE router converter is the all-rounder for professional audio. It converts between analog, MADI, ADAT and DANTE/AES67 formats with an integrated router.
• Post-Production
– INSIDE / IMMERSIVE WAYS: a software for creating immersive experiences in 360° video and virtual reality.
– LIVE SCHEDULE / NEWSBRIDGE: a tool that allows you to schedule the recording of video contribution streams in real time from a web browser. The functionality targets both specific needs (sports, events, conferences…) and recurring needs (news, media-monitoring, contribution…).
– Favourite Choice: LA CIE RUGGED PRO / LA CIE: The Rugged SSD Pro combines the spectacular speed of the Seagate FireCuda NVMe SSD with the Thunderbolt 3 interface, for speeds five times faster than traditional SATA SSDs, allowing you to view and render the most demanding high-speed RAW content, such as 6K, 8K source files and Super Slow-Motion.
• Broadcast & Distribution
– TELOS INFINITY IP INTERCOM / TELOS ALLIANCE: the first intercom system without a centralized matrix to add plug-and-play hardware and software easily, without ever worrying about exceeding the number of available ports, as usual on a centralized matrix.
– PIXOTOPE / FUTURE GROUP: a virtual studio and augmented reality solution for broadcast and events using the latest generation of Epic's Unreal Engine 4 3D graphics engine.
– GREEN MACHINE HDR EVIE / LYNX TECHNIK: the first system in the world to use powerful revolutionary algorithms for automatic analysis of the content of a video image and the application of optimal corrections, in real time and frame by frame.
– Favourite Choice: STREAM LIVE / ATEN: an AV mixer for live streaming, designed for high quality streamers.
• Services
– RF by EUROMEDIA: the first global live transmission of long-distance HF in 4K-HDR. A major first technique that prefigures what tomorrow's long-distance HF UHD coverage will be (Olympic Games/Tour de France).
• Project
Integration of the BTS Audiovisuel Henri-Martin de Saint-Quentin
By moving from SD to IP, the Henri Martin Audiovisual BTS foreshadows what an Audiovisual BTS should be in the future, a hybrid architecture open to the future.
This unique and ambitious project was carried out by BCE and made possible thanks to the perseverance of the BTS management team and teachers. The equipment and infrastructure have been thoroughly renovated, with an IP architecture and an interconnection between the equipment allowing access to the media from any room.
The philosophy of the ensemble is based on a hybrid SDI and SMPTE 2110 architecture with a six-channel EVS server in the nodal area, the channels being shared between the two control rooms of the two platforms. The main set includes a fixed control room with a 64 x 64 SDI grid and a 2110 SMPTE IP network, the EVS server is native 2110, the mixer and multiviewer are hybrid. The other equipment is only SDI (cameras, computer graphics…). IP/SDI converters allow flows to be exchanged between the two worlds.
Audience Choice
Audience members selected two products in each of the four following categories:
• Production & Filming
– ORBITER / ARRI: the first ultra bright and versatile LED point source with a wide range of optical accessories
– X GESTORE KINO / B-A INSTRUMENTS: a 16 channel HD/UHD/8K ingest machine for capturing and broadcasting from SDI, IP, NDI, files and Internet streams.
• Post-Production
– XTREAMSTORE BACKPACK / B-A INSTRUMENTS: XSTREAMSTORE universal production servers have been developed to achieve optimal performance, while having an advanced data protection system. Its intuitive interface allows for simple and reliable access management. The hardware redundancy at the base of the hardware guarantees high availability of the whole system.
– ADN PLAY / JL MORIZUR ENGINEERING: an adaptive player dedicated to remote production.
• Broadcast & Distribution
– SPARK PLUS / NEWTEK: The new NewTek HDMI-NDI high-speed IP video converter connects any video equipment and makes it instantly available as an NDI-compatible video source over a network with a resolution of up to 4K/30P with built-in audio (Embedded).
– DANTE DOMAINE MANAGER 1.1: a software solution to secure your Aoip networks by user profiles and rights.
• Services
– KILL THE TAPE / KILL THE TAPE: With only one tool, share, archive, distribute your films up to 50 years old WITHOUT SUBSCRIPTION
– PROTECT & STREAM / JL MORIZUR ENGINEERING: A real-time encryption solution for IP flows (audio, video, control network, etc.), PROTECT & STREAM integrates INES by JLME technology.
Find these products, services, and brands at SATIS-Screen4All 2019, on November 5 and 6 at the Docks de Paris (La Plaine-Saint-Denis).
SATIS – SCREEN4ALL in short…
– A 5000 m² exhibition – 3 Halls, more than 150 exhibitors and partners…
Our partners 2019 > https://buff.ly/2ZJnaO3
– The 360 Film Festival fourth edition, a showcase for immersive contents (85 contents presented in 2018)
The Festival takes a new turn by rewarding the Technique, usually forgotten of the Festivals dedicated to immersive formats.
Discover the 360 Film Festival in detail > https://buff.ly/2NM0wSE
– More than 50 conferences and Keynotes with the following key topics:
Production Trend – Production & Live – Production Optimization – Breakthrough Innovation (5G, 8k, Blockchain, IA…) – Immersive Formats – Audiovisual Integration – Audio – Images
>> Topics covered in 2019: IP Workflows & New Uses • Creation & Technology • Contents: Monetization Financing • Blockchain • New Cloud Applications • Social Networks • 5G • Artificial Intelligence & Media • 4k • 8k: Very High Resolutions • Hf in Shooting (Picture And Sound) • Live Event • Content Protection • Crowdfunding • Immersive Universe: Vr. Ar. • Mapping • Collaborative and Interactive Collaboration • Unified Communication • Digital Signage • New Screens • 3D Engine Real Time • LED Lighting • Intelligent Storage • Volumetric Video
…With 200 speakers representing the entire audiovisual value chain!
DATES AND LOCATION: November 5 and 6, 2019 – Docks of Paris, La Plaine Saint-Denis
Sign up today to receive all the news about the show!
Free accreditation (for professionals only)
* About Génération Numérique
Founded in 2014, Génération Numérique is a 360 agency which offers information services to professionals in the film, television and new media industries. The company publishes two BtoB magazines: Mediakwest and Sonovision. To strengthen this information ecosystem, Génération Numérique acquired the SATIS and merged the tradeshow with Screen4ALL, the Forum for Innovative Technologies for Film, Television and New Media. Génération Numérique was born from the passion of its founders for creation and innovation and the will to share with the progress of an audiovisual ecosystem in constant evolution.
** Screen4All is organized with the support of the Seine-Saint-Denis district, the Plaine Commune area, The CNC and the Pole Media Grand Paris.
Follow the SATIS and Screen4ALL on social networks …
Facebook : Satisexpo / Screen4All
Twitter : @satisexpo / @Screen4allforum
LinkedIn : Groupes Satis Expo et Screen4all
#SATIS #SCREEN4ALL #360FILMFESTIVAL