Screen4All offers a comprehensive programme of conferences dedicated to concrete as well as forward-looking topics related to technological developments and new funding avenues in the television, cinema and new screen industries. The forum is supported by the French department of Seine-Saint-Denis, the CNC (a French public administrative organisation, which manages allocations from the ministry of culture for the cinema), Cap Digital, Est Ensemble and the Pole Media Grand Paris.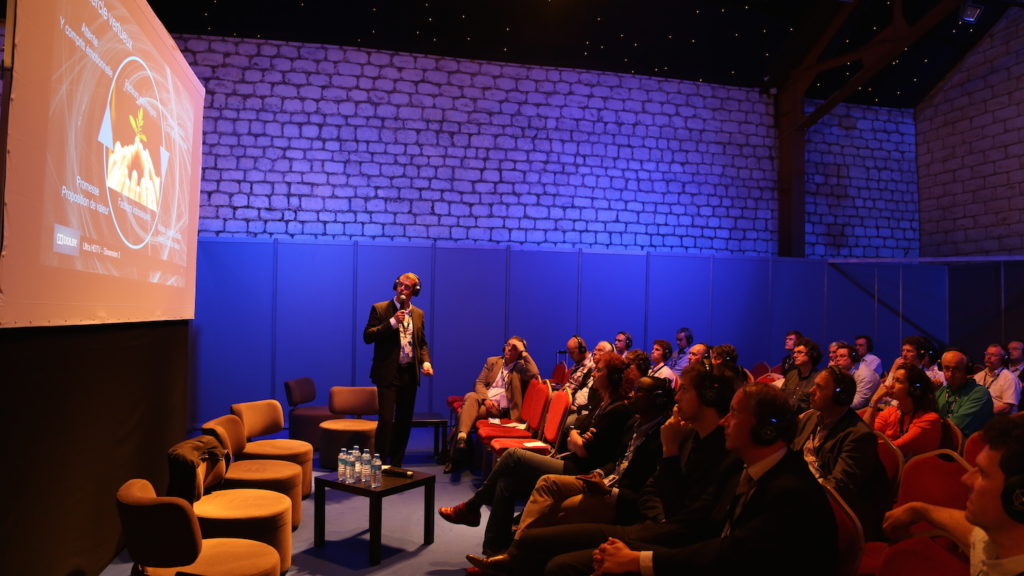 The talks held during Screen4All Forum are organized around three main topics:
– What's next: this three-day series of conferences will present the latest opportunities of disruptive technological innovations, as well as the new working habits and use values that they create. The talks will discuss innovations in filming, workflows, virtual reality in video games, 3D printing, augmented reality, and the future of movie theaters. Alexandre Michelin, general manager of Microsoft Online Media and Publishing EMEA, and Thibaud Artur de La Villarmois, author at GoGlasses – the French-speaking community of connected eyewear – and founder of nonsurtaxe.com and sqweb.com, will speak during this conference.
– Ultra HDay: Wednesday will be dedicated to 4K/Ultra HD formats and issues related to their adoption, offering a unique opportunity to meet international experts during talks on filming, post-production and distribution, but also during demonstrations, workshops and screenings. Matthieu Parmentier, project manager, research and development at France Télévisions, Morgan Bouchet, vice-president Digital Content & Innovation at Orange, head of TransmediaLab.org and teacher at Sciences Po, Torsten Hoffman, CEO of 3D/4K Content Hub, and Adi Kouadio, senior project manager at EBU UER, will share their expertise during this day.
– Gear Up Solutions: The "Gear Up" conferences are organised by 7th Degree Consulting, a strategy financing and tax advisory consulting company, offering insight on the new funding avenues for R&D and launching new solutions and services with a high technological added value. These talks are dedicated to start-ups and SMEs, offering an overview of the public funding opportunities in France and Europe as well as the potential of crowdfunding, including during the initial launching phase of services and technologies. Julien Seri, who directed Yamakasi, Sons of the Wind, Scorpion, and the recent Night Fare, will share his experience.
"This programme of conferences is dedicated to the entire ecosystem of cinema, television and audiovisual communication industries, by exploring all issues related to content production and funding, all the way up to the screening stage. In a world with more and more disruptive innovations, we believe entrepreneurs and decision-makers in these industries should have a comprehensive overview of the market in order to better understand the challenges and take initiative for their success," explains Stéphan Faudeux, director of Screen4All Forum.
Click on the following link to view Screen4All's conference programme > http://bit.ly/1rtSSJm
In addition, Screen4All Forum offers a series of 45-minute workshops where participants can find out about the latest tools and innovations. They will learn how to create their own Netflix platform, explore new workflows from production to post, and discover the RIAM network, supported by the CNC and Bpifrance.
Click on the following link to view Screen4All's workshop programme > http://bit.ly/1qmHiMm
Screen4All Forum will be held from October 28 to 30, 2014, at the Centre National de la Danse in Pantin (Paris region, France). Free admission for participants who register online (restricted to professionals and students in the image industry).
Click on the following link to register: http://bit.ly/1jT7MbV
Follow Screen4All Forum on social networks :
About Screen4All Forum
Screen4All, the forum on disruptive technologies and new uses for film, television and new screens aims at offering participants opportunities for development, by providing insights into how the creation and distribution of digital contents are evolving, and by fostering international networking. During three days, Screen4All Forum breaks down the barriers that traditionally separate production, technology and investment. This event is organized by the Club HD and Avance Rapide. The Seine-Saint-Denis region, which has supported Dimension 3 for 5 years, now supports Screen4All.