Screen4All, the forum on disruptive technologies and new uses for film, television and new screens, is the successor of "Dimension 3, the new dimensions of images," launched in 2007. This event aims at offering participants opportunities for development, by providing insights into how the creation and distribution of digital contents are evolving, and by fostering international networking. During three days, Screen4All Forum breaks down the barriers that traditionally separate production, technology and investment. This event is organized by the Club HD and Avance Rapide. The Seine-Saint-Denis region, which has supported Dimension 3 for 5 years, now supports Screen4All.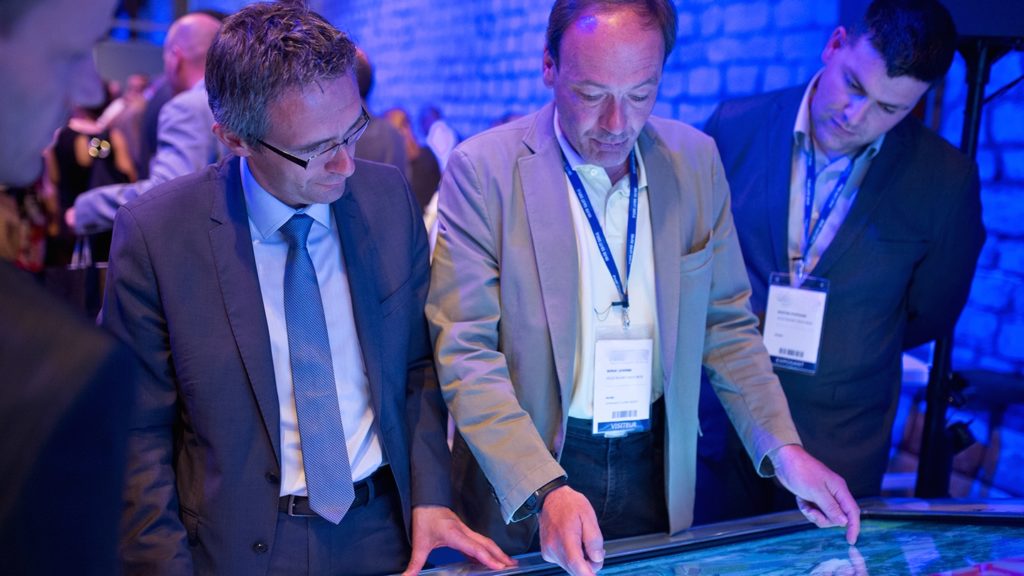 Conference programme
What's Next: this session features prospective conferences that will help participants better understand the issues surrounding disruptive technological innovations and new uses on one hand, and approach the future with a positive mindset. Highlights include a talk given on Tuesday, October 28, at 10 am by Marc Christie, a professor at the Rennes I university and a member of the INRIA's Mimetic team, Matthias Ziegler, from the Fraunhofer IIS, and Yves Pupulin, advisor on 3D techniques and hardware at Binocle 3D, will share insights on the increasingly similar production techniques used in film, fiction and video games. At 3 pm, Alexandre Michelin, general manager of Microsoft Online Media and Publishing EMEA, Gisèle Belliot, CEO and cofounder of Ayotle, and Stéphane Duboc, in charge of TV and Media Solutions at Ericsson, will discuss future TV technologies. On Tuesday, October 30, at 10 am, Dominique Schmit, Sales Manager for Southern Europe at Dolby Laboratories, Kalle Kujala, CEO of Striim.in, and Pascal Vinial, head of 2AVI, will share their expertise on the future of cinema theaters. Then, at 2 pm Jean-Michel Billaut, head of Broadband78 and former head and founder of L'Atelier BNP Paribas, will give a talk on France's position on digital issues over the next five years.
Workshops: offered as 45-minute modules, the workshops will provide opportunities to take stock of the current tools and latest innovations. In this context, Jean-Noël Portugal, founder and consultant at Jnko.net, and Pierre-Marie Boyé, advisor at the CNC, will present the network for research and innovation for audiovisual and multimedia technologies (RIAM) on Tuesday, October 28, at 3 pm. This will be followed by a talk by Philippe Bornstein, founder of Netineo, on the future of online video. Tuesday, October 28 morning will also be dedicated to workshops only available to registered participants, including the Mesclado workshop, offering a comprehensive program on technological innovations aimed at promoting audiovisual content. Cyril Rickelton-Abdi, a specialist in digital technologies who first worked at Disney ABC Television and now at Turner Broadcasting (Time Warner group), will present the technological evolutions that have taken place within Turner. Among other topics, he will discuss advertising and content security in the digital world.
Click on the following link to view the full schedule and speaker list of the Mesclado workshop: http://bit.ly/1w8Hx6p
Click on the following link to view all workshops: http://bit.ly/1yjXapk
Ultra HDay: Wednesday will be fully dedicated to issues related to the pick-up and development of 4K Ultra HD, through a comprehensive series of conferences, demonstrations, workshops and screenings. Highlights will include a presentation by producer Marc Miance of his animated film Why I Did Not Eat My Father, directed by Jamel Debbouze. Anaïs Libolt, Broadcast & Online Manager at Dolby Laboratories, will then discuss the challenges of 4K postproduction. She will be followed by Maryline Clare Charrier, in charge of Orange Labs' collaborative project 4EVER ("for Enhanced Video ExpeRience"), who will discuss future 8K technologies, with a view to implementing them at the 2020 Olympics. Another major highlight of the Ultra HDay will be the exceptional visit of Yoon Hee Choi, in charge of Ultra High Definition at MBC (Munwa Broadcasting Corporation), one of South Korea's four main TV networks, and deputy general manager of Next Generation Broadcasting TF. Yoon Hee Choi will present the Korean UHD market, including a debriefing of the first live UHD broadcast during the Asian Games, and will outline MBC's UHD development plan during a talk on Wednesday, October 29, at 4.30 pm.
GEAR UP Solutions: this think talk created by 7th Degree Consulting will offer three days of talks on funding avenues for digital businesses during which participants can learn about how to fund their projects from industry experts such as Adrien Aumont, cofounder of Kiss Kiss Bank Bank, Camille Mollard, in charge of crowdfunding at My Major Company, Nicolas Lesur, chairman of France's crowdfunding association, Tsilla Kogel, in charge of development and partnerships at Ulule, Laure Reinhart, innovative partnership manager at Bpifrance, and Philippe Gluntz, head of Business Angels Europe.
Click the following link to read the press release on the GEAR UP think tank: http://bit.ly/10mMT0y
Click on the following link to view all Screen4All Forum conferences: http://bit.ly/UmcmUc
Click on the following link to view all Screen4All Forum speakers: http://bit.ly/1pAd5e2
Events
Tuesday, October 28 – starting at 7 pm
Awards evening for Dimension 3 Festival, followed by a Screen4All/Dimension 3 Festival networking cocktail
Wednesday, October 29 – starting at 7 pm
Closing night of Ultra HDay and GEAR UP Solutions
The Village and the Demo Zone
The exhibition area is divided into several areas promoting professional exchanges and giving businesses a place to present their innovations and latest products to decision-makers, users and opinion leaders from all around the world.
From small startups to world-class companies such as Canon, Orad, Videomenthe, 3DStorm, Giroptic and AvantCam, businesses that innovate on their market and in their field can present their solutions at Screen4All Forum.
Between visitors and exhibitors, 250 companies will be present at the Forum. Click on the following link to view a full list of companies: http://bit.ly/1vVtv82
Practical information:
Screen4All Forum will be held from October 28 to 30, 2014, at the Centre National de la Danse in Pantin (Paris region, France). Free admission for participants who register online (restricted to professionals and students in the image industry).
Click on the following link to register: http://bit.ly/1jT7MbV
Keep up to date on the Forum's latest news by signing up here: http://bit.ly/1nyTyPo
Follow Screen4All Forum on social networks:
Twitter – @screen4allforum: http://bit.ly/XLWuMj
Facebook: http://on.fb.me/1tU7O63
LinkedIn: http://linkd.in/1sliZ9c