Screen4all, the Forum of disruptive technologies and uses, offers forty conferences and workshops dedicated to issues of digital and financing in the television, cinema, gaming and communication markets.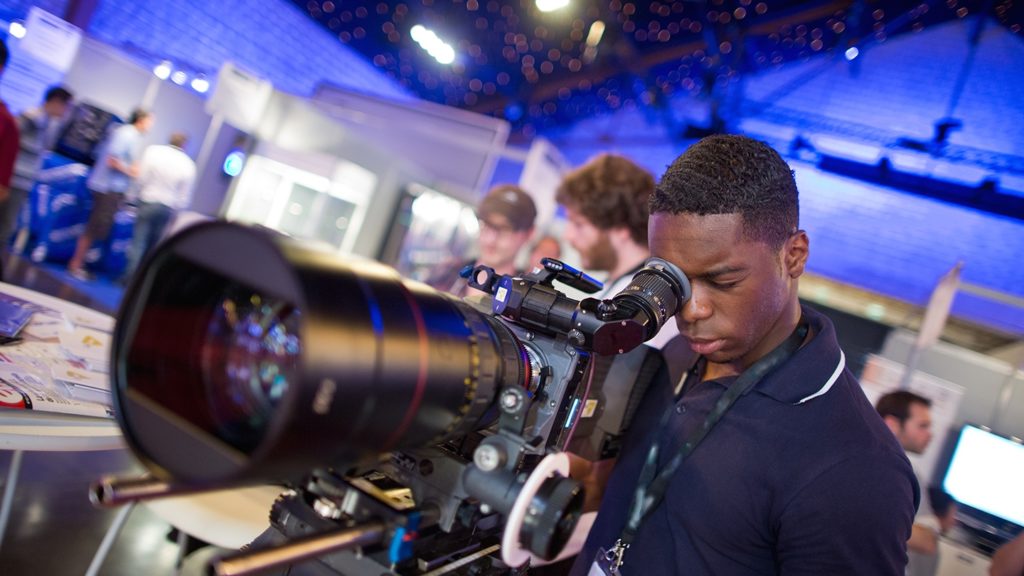 On Wednesday, October 29th Screen4ll offers a special day 100% focused on 4K/UHD : the Ultra HDay. These conferences will offer highlights about 4K / Ultra HD formats adoption – with lectures dedicated to filming, post-production, distribution. The Ultra HDay will also offer demonstrations, workshops and screenings.
Conferences
Production 4K UHD, Preparing Postproduction I shoot 4K image and sound enriched I Dissemination, distribution: the missing link I Foresight: And after UHD Phase 1 …
The Keynote of Wednesday, October 29
Marc Miance
MAKING OF " WHY I HAVE NOT EATEN MY FATHER"
14h00-14h45
Executive producer of Why I have not eaten my father through his company Let's So Ya, Marc Miance will offer us highlights about the backstage of this animated film produced by motion capture. Produced by Pathé and Borealis, the film will be realeased in 3D and 4K by Pathé Distribution from April 8, 2015.
Regarding Gear Up conferences, the day will be entirely devoted to crowdfunding with case studies and three conferences developping the subject: How to organize a crowdfunding campaign …
Our flagship workshop on Oct. 29 will be : How to create Netflix platform in 10 Lessons!
Meet the during Ultra HDay Conferences and workshops…
Marc Bourhis – Diginov I Torsten Hoffmann – 3D & 4K Content HUB Marc Bourhis – Diginov I Torsten Hoffmann – 3D & 4K Content HUB I Bertrand Loyer – Saint Thomas Production I Christophe Barbe – Euro Media I François Bertrand – Camera Lucida I Percy Fung – Digital Magic I Marc Miance – Let's So Ya I Anais Libolt – Dolby I Adi Kouadio – EBU UER I Damien Lucas – Anevia I Jérôme Vieron – Ateme I Maryline Clare – Orange Labs I Laurent Tescari – Etilasat I Ludovic Bostral – Digibos > Christian Guillon – ADN I Gerard Yahiaoui – Nexyad I Gérard Briand – Technicolor > Aurélien Denaes – Fundyz I Dominique Stucki – Virgile Avocat I Marc Lapostolle – Finance Innovation I Nicolas Lesur – Association Française de Financement Participatif I Nicolas Lesur – Association Française de Financement Participatif I Tsilla Kogel – Ulule I Vincent Ricordeau – Kiss Kiss Bank Bank I Alexia Rey – Smart Angels I Francois Carbone – Anaxago I Souleymane Galadima – Wiseed I Bertrand Loyer – Saint Thomas Production I Christophe Barbe – Euro Media I François Bertrand – Camera Lucida I Percy Fung – Digital Magic I Marc Miance – Let's So Ya I Anais Libolt – Dolby I Adi Kouadio – EBU UER I Damien Lucas – Anevia I Jérôme Vieron – Ateme I Maryline Clare – Orange Labs I Laurent Tescari – Etilasat I Ludovic Bostral – Digibos > Christian Guillon – ADN I Gerard Yahiaoui – Nexyad I Gérard Briand – Technicolor I Aurélien Denaes – Fundyz I Dominique Stucki – Virgile Avocat I Marc Lapostolle – Finance Innovation I Nicolas Lesur – Association Française de Financement Participatif I Nicolas Lesur – Association Française de Financement Participatif I Tsilla Kogel – Ulule I Vincent Ricordeau – Kiss Kiss Bank Bank I Alexia Rey – Smart Angels I Francois Carbone – Anaxago I Souleymane Galadima – Wiseed