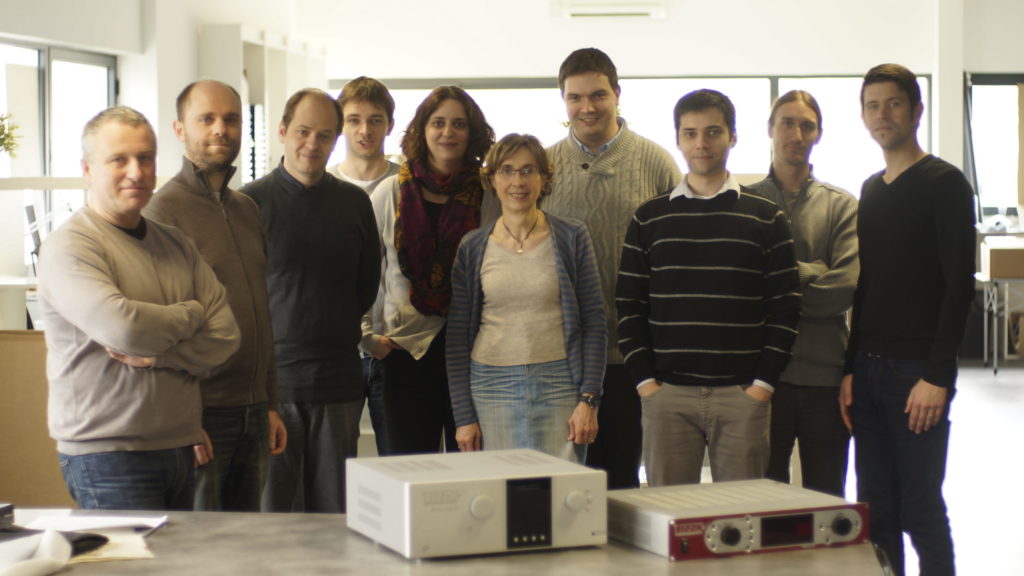 Trinnov Audio is developing an audio processing technology based on acoustic correction. This one-of-a-kind small company, with its team of passionate engineers, designs both the hardware and the software components of its systems. Its activity is centered on an uncompromising quest for perfect sound quality.
Its name, Trinnov Audio, refers to three-dimensional sound and innovation: an ambitious program for this young company, launched in 2003. Its core business is acoustic correction, using the Optimizer software application and a 3D measuring microphone, which produces a consistent result regardless of the venue's acoustic characteristics. Traditionally geared toward the professional market, this technology is also used by many studios. These include Cinéphase, Éclair Group, DubbingBrothers in Belgium, and others. The company has consolidated its position on the French cinema market in 2013, and is implementing an export strategy in 2014 in order to strengthen its presence abroad.
Two years ago, the small company reacted to market trends by changing its offering, with two new product ranges: cinema and high-end consumer audio. These products are based on a common hardware and software framework. Cinema processors increasingly include server support as well as various profiles that depend on the signal's source. Systems dedicated to the professional market feature signal analyzers, including for loudness (EBU R128 standard), allowing them to be used as integrated monitoring platforms. Finally, consumer systems offer a more user-friendly interface, a turntable amplifier, and Wi-Fi and networking features for file-based audio.
Trinnov Audio's technology processes sounds according to the room's acoustics. Arnaud Laborie, one of Trinnov's three co-founders, explains: "Traditional equalizing techniques are not at all suited to how a room's acoustics work, nor to how humans perceive sound. They simply let us draw a nice-looking curve on an equalizer." "The timing-related phenomena in the room are not at all taken into account in 31-band equalization technology," adds Philippe Putatti, business engineer for the cinema market at Trinnov. "Sounds are not just made up of what reaches our ears directly, they also bounce against the walls and reflect, reverberate, resonate…" Trinnov Audio's system innovates by separating these various factors that influence sounds and by isolating them and processing them separately, using dedicated algorithms that are as faithful to human perception as possible.
For the cinema market, Trinnov Audio has developed the Ovation, an audio processor featuring 16 input channels and 24 output channels in 24-bit linear PCM at 48 or 96 kHz, with Auro3D sound management. In addition, the Ovation is offered with specific profiles: "server" for films, "non-sync" for ambient music, "micro" for conferences or previews, and "alternative" for live events such as operas, athletic events, etc.
But more importantly, the Ovation can use the Optimizer to improve the acoustics of a room. This is done through multi-point measures (8 microphones are recommended) and recording presets, or acoustic "fingerprints" of various rooms. "A well-calibrated room will produce no auditory fatigue", explains Philippe Putatti. "It will reproduce the content just like its creator designed it. Our products ensure an optimal sound installation and require no extra work is required in the room." UGC Paris XIXe, the latest cinema complex that opened in the French capital in October, 2013, has equipped its 14 theaters with the Ovation system, installed by TACC.
But Trinnov Audio is not resting on its laurels. The company is currently working on 3D sound, partnering up with DTS to develop MDA, a new open format. It is also implementing binaural technologies in its consumer products. This technology is being developed in partnership with Radio France, France Télévisions and the CNRS. This project focuses on fine-tuned sound processing depending on each user, based on their auditory profile. Through these new research venues, Trinnov stays true to its name.