BBright confirms its commercial success in the Ultra HD linear channel playout market and complements the product features of the UHD-24/7 quad 3G-SDI playout server accepting versatile pivot file formats and with playout event scheduling automation and logo insertion.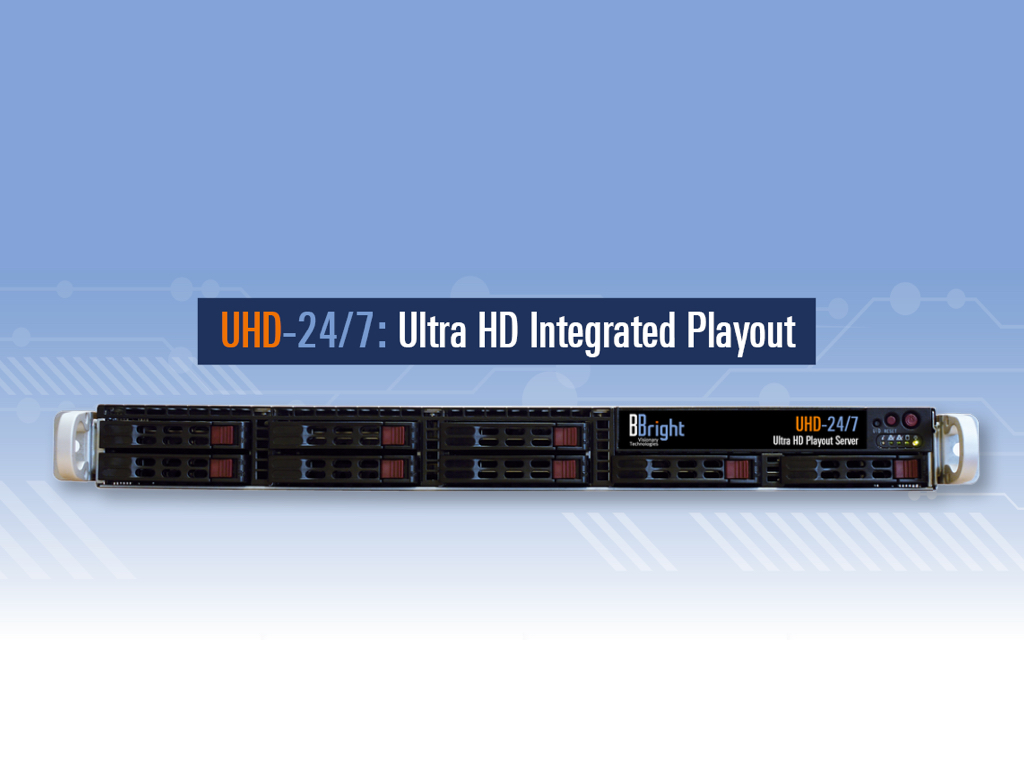 The French company that specializes in 4K / Ultra HD and HEVC video technologies for broadcasters, network and IPTV operators deliver key head-end playout solution to feed all new and emerging linear ultra HD channels.
The UHD-24/7 features:
– Quad 3G-SDI outputs, Level A / B (both in 4 quadrants and 2-Sample Interleaved pixel modes).
– Several 4K / UHD pivot file formats (ie. XAVC, H.264, HEVC, Intra or long-GOP), can be ingested at high speed through a 10GbE interface from any FTP or NAS.
– Full-HD progressive files will be up-scaled in real-time during Ultra HD playout.
– 24/7 daily – weekly – monthly playout event scheduler allows for a complete linear channel scheduling manually and processing of external playlists is also supported for integration in customers' traffic systems.
– Multiple, timed, logo insertions and workflow automation are provided for convenience.
– HDR schemes are natively supported with PQ10 and HLG compatibility.
According to Guillaume Arthuis, CEO of BBright: "BBright company is now a trustworthy supplier of software-based servers to rely on daily in production infrastructures such as playout head-ends. Tested on the long term or already in production at three satellite and IPTV network operators, we believe the UHD-24/7 integrated playout is the most significant product ever introduced by BBright. The new features released for this IBC give us a competitive advantage in term of ease of use, flexibility, workflow integration and unmatched picture quality".
BBright is focusing on rapid market transitions around 4K/UHD, HEVC, multiscreen and content delinearization. The French company, founded in September 2013 in Rennes, develops high-end 4K and HEVC technologies including broadcast appliances such as playout servers and transcoders for the video ecosystem.