WILDMOKA, the leader in video automation, enrichment and monetization technologies, announces today that Moments Share has been selected by CANAL+ Group, the leading pay-TV operator in France, to launch a videoclip-sharing feature on CANALPLUS.FR called L'INSTANTCANAL.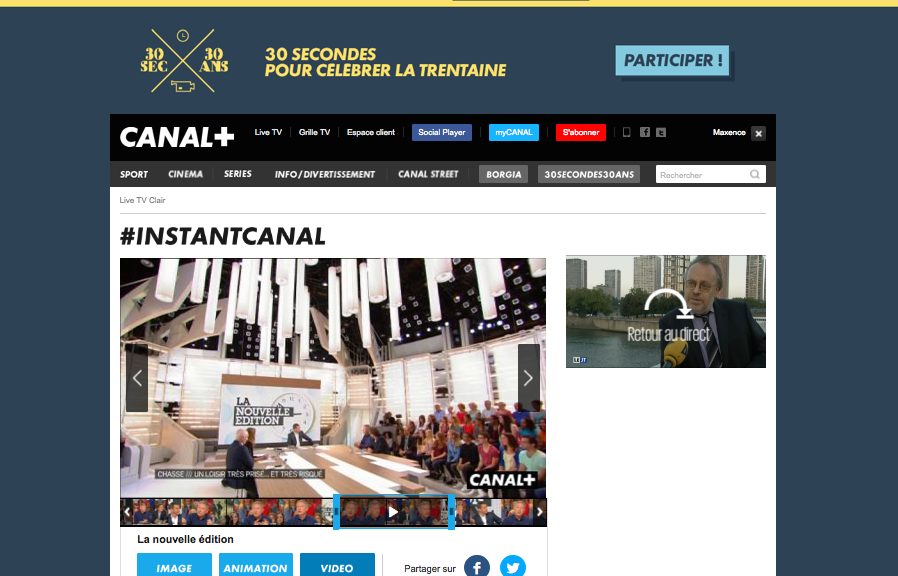 WILDMOKA is a French company developing patented technologies that reinvent the TV watching experience. WILDMOKA cloud platform turns in real-time any video source into an enriched, de-linearized, navigable and social content, available on any screen through truly innovative applications. WILDMOKA targets content owners and service providers willing to offer an ever-increasing interaction between end-users and their programs, in order to address new usages, expand their audience and grow the monetization opportunities.
Moments Share, WILDMOKA's Social TV revenue generating solution, is an amazingly simple and fun sharing application allowing the end-user to navigate in a video, select a sub-set of images or a short clip and share it with his/her friends through any social or communication media.
With Moments Share, Content Owners benefit from a powerful and highly customizable solution that:
– Generates extra value through consumer-to-consumer recommendation
– Provides complementary advertising revenues
– Helps to better control their brand through curated social content and positive buzz
Fabienne Fourquet, Head of New Contents at CANAL+ Group confirms the choice of WILDMOKA's Moments Share: "In a context where we leverage more and more social media to grow our audience and increase our audience's loyalty, WILDMOKA has provided us in a few weeks with a fun and intuitive Social TV application, empowering CANAL+ users, that will help generating more buzz around our programs and increase the consumption of our non linear content."
Moments Share is part of the Moments Service Suite that includes other breakthrough solutions such as Moments Replay, which provides an enriched and fun replay of any TV programs, or Moments Capture, which automatically captures and values key moments of TV shows or live events.
Moments Share has been developed on top of WILDMOKA platform, a cloud based scalable video infrastructure that turns in real-time any video source into rich, interactive and social-enabled content. WILDMOKA platform ingests any video stream (including live TV), and thanks to patented algorithms, de-linearizes and enriches this content in real-time, complementing this stream with social-enabled content.
WILDMOKA's products and services have already been selected by major players in Europe and in the US.