The partnership of exclusive distribution, established with Harkness Screens in April of this year, marked the coming edge of the Qalif range for the commercial cinema market worldwide.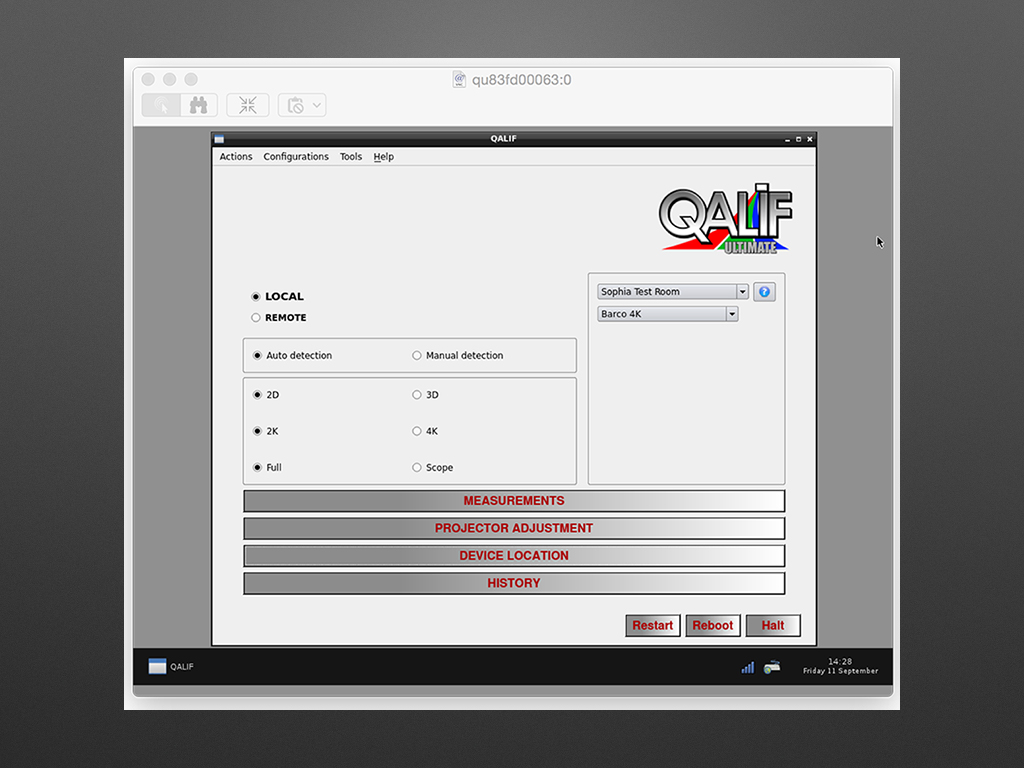 Henceforth, continuing their work in this sector, The Qalif Team started the development, improvement & adaptation of these image & sound calibration & analyze tools, to open them to other markets.
As usual, the Qalif team focuses on current & futur technologic trends but also norms. Indeed, if the quality of visual experience technologies undoubtedly grows, its expands to several fields, offers more & more possibilities for both industry & public, & standardization as logical consequence.
IMPROVEMENT & LAUNCHING
Thus, seizing the opportunity of developing markets such as HDR & laser technologies, engineers improve or modify some of Qalif Ultimate & Qalif Spectro processes to make them match with the activities requiring high visual accuracy.
The second key development is to enable easiest control of visual elements: light, color, or hue, etc… in a matter of second. This is, for instance, the objective of the new VLT Box. Other products are currently developed following this idea.
Several world premiere during IBC 2016…
Display Walls now analyzed with HDR technology!
The Qalif Ultimate offers an innovative way of working allying best performing visual experience and compatibility with growing market. For This IBC edition, the Qalif Team has worked to upgrade the Ultimate and allows its users to analyze image quality of Display Walls with HDR technology. Whereas the competition offers classically the capability to analyze either a high light (white) or a dim light (black), the Qalif Ultimate is now the only tool able to measure both! Compatible with the light distribution, the luminance range is 0.003 fL up to 2600 fL.
New powerful laser sources analyses & dominant color determination
Last generation of spectrometers, the Qalif Spectro is specialized in the analyze of cutting-edge display & projection technologies. Its spectral resolution (0,3nm/pixel & FWHM 2mn) is the most accurate on the market and enables laser projection analysis.
Recently improved, the Qalif Spectro process is now able to determine dominant color.
Launching of the New VLT Box: the easiest glass hue control
VLT Box is the latest of Qalif range. This instrument allows to measure the Visible Light Transmittance. Used to control glass hue, its advantage is to be in two parts, the box and the magnetized lamp. Handy, ergonomic and intuitive, it is automatically calibrated before each use. The results are fast and displayed in % of transmission. The product can be set to validate or invalidate the results according to industry norms.
Qalif is a complete range of analyze & calibration solutions for image and sound quality. These cutting-edge tools perform automatic settings: Focus, Lamp Power, Colorimetry, etc… They allow to adjust the visual and audio experience at their best level or with standards, perfect to follow the current and upcoming quality approach of audio-visual industry.