A professional training course, Screen4All Campus builds on the experience of eight experts in the film, television and entertainment industries with advanced knowledge of production, broadcasting and funding. Over the course of three days, these international experts will share their knowledge with 18 European trainees taking part in Screen4All Campus.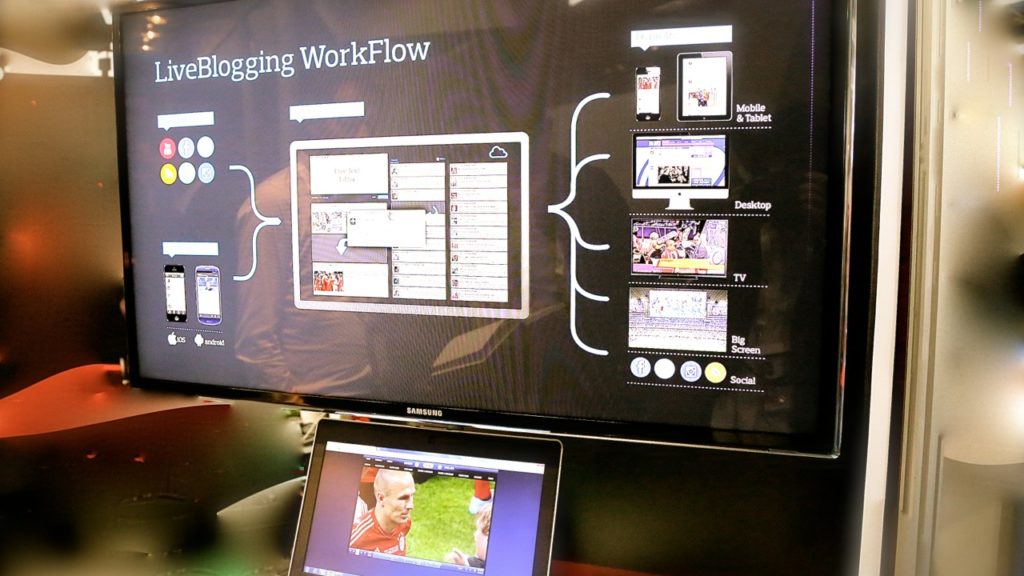 The course is a part of Screen4All Forum, an event held from October 28 to 30, 2014, at the Centre National de la Danse in Pantin, just outside Paris.
Screen4All Campus will be dedicated to audiovisual production for new delivery channels, covering the following topics:
introduction to new types of programs
fiction, documentaries, live shows issues
new trends in interfaces
the opportunities of connected screens
new program types and video games: why and how include the dimension of entertainment?
testing and improving content before launch
social networks, gamification, marketing: what lessons can be learned from video game production?
how to fund contents?
Screen4All Campus is sponsored by the EU's MEDIA program, which is a part of the Creative Europe initiative whose goal is to strengthen and develop the cultural and creative sectors in Europe, especially in the film, audiovisual and video gaming industries.
"Without a doubt, Screen4All is among the most comprehensive training courses for professionals wishing to learn about the best practices on transmedia and multi-screen contents. Our approach is both theoretical and practical, and it allows participants to acquire strong tools that they can use to carry out their projects. This is the course's second year, and once again the trainees will learn from high-level trainers," says Djamil Kemal, CEO at Goshaba.
Learn about the trainers at Screen4All Campus' 2014 edition:
Pauline Augrain / Project manager, CNC, France
Following early experiences in the audiovisual production of documentaries and in the video on demand industry, Pauline Augrain joined the CNC (National Center of Cinematography) in 2008, in charge of supporting the implementation of the fund destined to promote new media projects. Ever since its creation, this fund has helped nearly 400 transmedia or native web projects, integrating the specificities of new connected screens into the projects' artistic process. Since 2011, this selective support is complemented by an automatic support mechanism for web projects, "web COSIP", which can broaden the scope of the CNC's actions in favor of new media creation.
Stéphane Bittoun / General manager, My Major Company, France
The former financial manager of audiovisual group Endemol France, then of NextRadio, Stéphane Bittoun has been general manager of My Major Company since 2011; this company is among the first crowdfunding websites and an industry leader in Europe based on the size of its community, the amounts raised, and the commercial success of the projects it helped launch. After starting off in the music industry, My Major Company has now branched out to crowdfunding audiovisual and literary projects, as well as associations.
Peter de Maegd / Producer, Potemkino Production, Belgium
Peter De Maegd is an independent film producer who focuses on the new opportunities of converging media. Over the last decade, Peter was involved in the production and marketing of over a dozen feature films. With his company Potemkino he focused on innovative projects and formats with films such as Where is Gary?, Miss Homeless and Jean wordt Vlaming. In adition, participative drama series The Spiral, produced in partnership with Caviar Films and 7 broadcasters, was simultaneously broadcast in 8 countries and invited the audience to experience the story on TV, online and in the real world. Finally, Peter gives lectures on storytelling for converging media.
Margaret Dunlap / Independent TV screenwriter, USA
Margaret Dunlap made her multiplatform storytelling debut as a screenwriter, director and executive coproducer of The Lizzie Bennet Diaries, an Emmy-winning transmedia adaptation of Jane Austen's famous novel Pride and Prejudice. Margaret then collaborated on a groundbreaking project by Pemberley Digital that builds upon the previous one: Welcome to Sanditon. In addition to adapting Jane Austen's works to online TV, Margaret worked on SyFy series Eureka as well as on cult ABC Family series The Middleman.
Isabel Fernandez / Director of documentaries and producer, Al Pati, Spain
With her production company Al Pati, Isabel Fernandez is at the forefront of the development of innovative documentary concepts that blend technology, gaming and interaction in an effort to trigger social changes. She has a passion for exploring digital storytelling techniques, their adaptation to multiple platforms and their potential in terms of social impact. Since 2001, Isabel has directed many biographical, social and cultural documentaries for Televisió de Catalunya and Canal Sur. As a former member of the Intercultural and Diversity Group of the EBU (European Broadcasting Union), Isabel has also directed and coproduced multicultural documentary series that were broadcast on NTR, VRT, SVT, UR, YLE, RAI, RTP, TG4, ORF, TVP, the Czech public television, and TRT. Fintally, her feature film El fill de son pare was awarded the jury's special prize at the Prix Europa film festival in Berlin in 2010.
Djamil Kemal / CEO, Goshaba, France
As CEO of Goshaba, a company that brings together video games and cognitive sciences, Djamil Kemal has spent 17 years developing his expertise in the fields of interactive entertainment and transmedia storytelling. He is also a video game market specialist (Emme, Vivendi/Activision, Lexis Numérique). Djamil's successful projects include In Memoriam, launched in 2003, which was one of the first mainstream transmedia projects and was very successful in North America. Djamil has also worked on Alt-Minds, another transmedia project created by Eric Viennot (PC, tablets, webseries, Facebook games, iPhone game…) and regularly offers his expertise to brands and agencies in order to create stories and go beyond traditional marketing strategies. Projects he contributed to received awards including at the Grand Prix Stratégie (France), the Prix des Directeurs Artistiques (France), and the One Show Entertainment (Etats-Unis).
Christopher Sandberg / Chief Creative Officer and founder, The Company P, Sweden
Christopher Sandberg's passion is TV drama with rich audience participation using broadcast, games, social media and events in complete transmedia productions; his productions include The Spiral, created in partnership with SVT, VRT and other partners. The show aired in 10 European countries and was nominated for the 2013 International Emmy Awards. Christopher is also the creator and executive producer for national channel DTV's Mediteve, the first Scandinavian participatory television channel. He is also the founder of Kramgo (Sweden's leader of viral marketing), Namni (a mobile service and entertainment firm), and Ministeriet (a role-playing management company). Finally, Christopher has a long history in ICT and media research, notably as acting studio manager of game research studio The Interactive Institute.
Esther Wouda / Screenwriter, producer and founder of Gloworm film, the Netherlands
For ten years, Esther Wouda was responsible for selecting and developing feature films and television drama series for (Eyeworks) Egmond Film and Television or for Marleen Gorris, the Dutch producer of Oscar-winning film Antonia's Line. With her own company, Gloworm Film, Esther aims to develop and produce enlightening feature films with international appeal. Gloworm Film also offers script consulting for writers, producers, film funds and broadcasters. Esther writes and teaches screenwriting and script assessment. She is currently coaching international clients in Europe, the US, UK and South America on rewriting their various projects.
Candidates must register before October 24
Screen4All Campus is a part of Screen4All Forum, the forum on disruptive technologies and new uses for film and TV.This international event offers participants opportunities for development, by providing insights into how the creation and distribution of digital contents are evolving, and by fostering international networking. "Screen4All Campus – Augmented TV, producing for new screens" is a training course supported by the EU's MEDIA program.
www.screen4allforum.com and www.screen4all.com
Follow Screen4All Campus on social networks: