NextRadioTV recently worked with Audiopole and Red Bee Media to equip eight studios in their new broadcast facility with state-of-the-art Studer by HARMAN Vista mixing consoles and routing systems.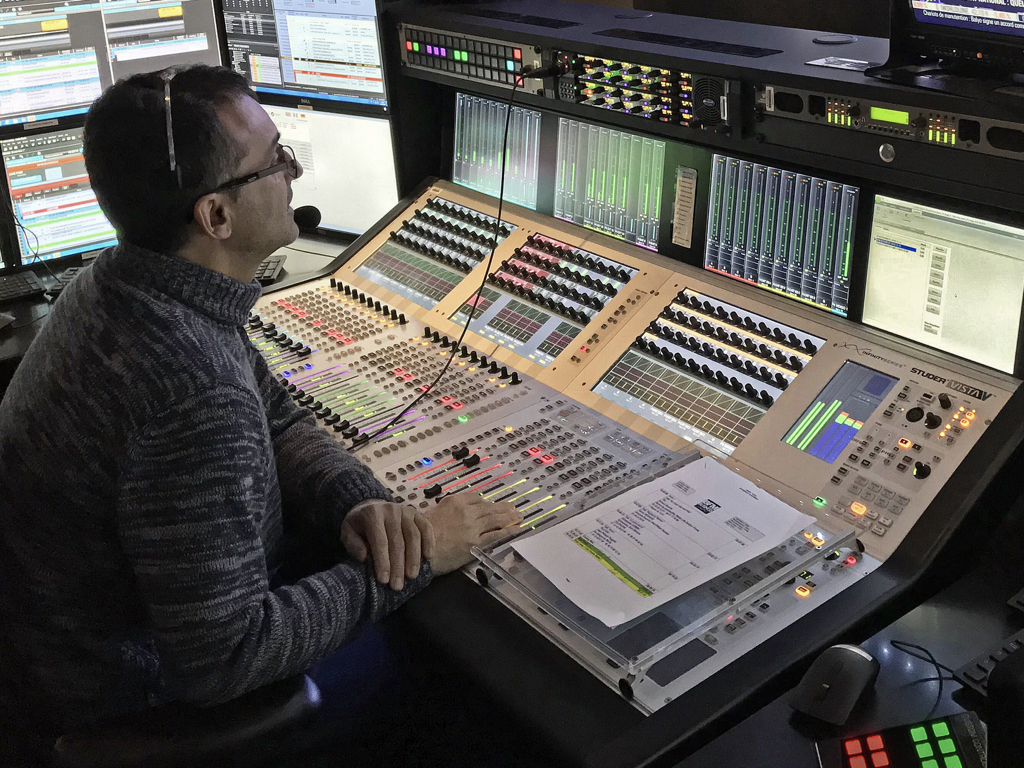 NextRadioTV is a French broadcasting company operating multiple radio and television stations. After being acquired by Altice, a European media group, NextRadioTV moved to a brand-new facility inside Altice France's headquarters. With twice as many studios to manage, NextRadioTV's engineers decided to increase efficiency by making each one a multipurpose space with identical equipment. NextRadioTV hired system integrator Red Bee Media to install a complete Studer by HARMAN broadcast mixing solution, supplied by Paris-based HARMAN distributor Audiopole.
"NextRadioTV was already equipped with Studer consoles in their former facility—they had two Vista consoles in their TV studios and two OnAir 3000 consoles for the radio studios," said Jean-Phillipe Blanchard, Managing Partner at Audiopole. "When they decided to move to a new premises, we started discussing the project and they said that they wanted to use same type of console in both the radio and TV studios."
Seven of the new multipurpose studios feature identical Studer Vista V consoles, which increase efficiency by allowing engineers to seamlessly switch between radio and TV broadcasting with little to no downtime. The Vista V's Quad Star technology and Infinity Core processor give it ample DSP power for demanding mixing tasks. These components also provide industry-leading levels of redundancy to ensure uninterrupted broadcasts. The visual feedback from the Vistonics interface and FaderGlow technology allow engineers to view all important parameters at a glance, speeding up workflow for complex live broadcasts.
The largest studio in the new facility has the capability to host live TV or radio broadcasts with a studio audience. Here, Audiopole supplied a Studer Vista X console to provide extra power and flexibility necessary for delivering separate audience and broadcast mixes. Since the Vista X shares a similar interface and features with the Vista V, NextRadioTV's engineers can apply the same workflow processes in all studios. Ten Studer Compact Stage Boxes throughout the facility provide a high density of inputs for complex broadcasts. Each studio is also equipped with a Studer Compact Remote Bay for extra redundancy in the event of any console maintenance.
In addition to the Infinity Core processors found in each Vista console, Audiopole supplied two standalone Studer Infinity Core 400 units to serve as a master audio routing system. Capable of accepting up to 5,000 inputs and outputs, this central routing system makes I/O from all eight studios available anywhere in the facility. It's also capable of precise automatic mixing, which NextRadioTV uses for adding commentary to the audio feeds they receive from sports events throughout Europe.
"The central audio routing system handles all the communication between the consoles, but it's also used to do some automatic mixing when they need to do commentary on sports events," Said Blanchard. "The Infinity router is basically a Vista console without a control surface, so you get the same features as a mixing console. In this case, they use the VistaMix feature to mix the commentary from a booth at NextRadioTV with the audio feed from the event."
Equipped with Studer by HARMAN consoles and peripherals, NextRadioTV's new facility gives them greater broadcasting capabilities than ever. And since all eight studios share the same systems and workflow, any of them can be used for radio or TV broadcasting at any time. The new system is also highly scalable and ready to adapt to NextRadioTV's growing operations.