Luc Besson's forthcoming sci-fi blockbuster movie "Valerian" will hit theaters worldwide at July 26th as the most expensive movie so far produced in Europe. Accompanying it, French Oscar Award-winning composer Alexandre Desplat has contributed a score as exciting as the movie itself.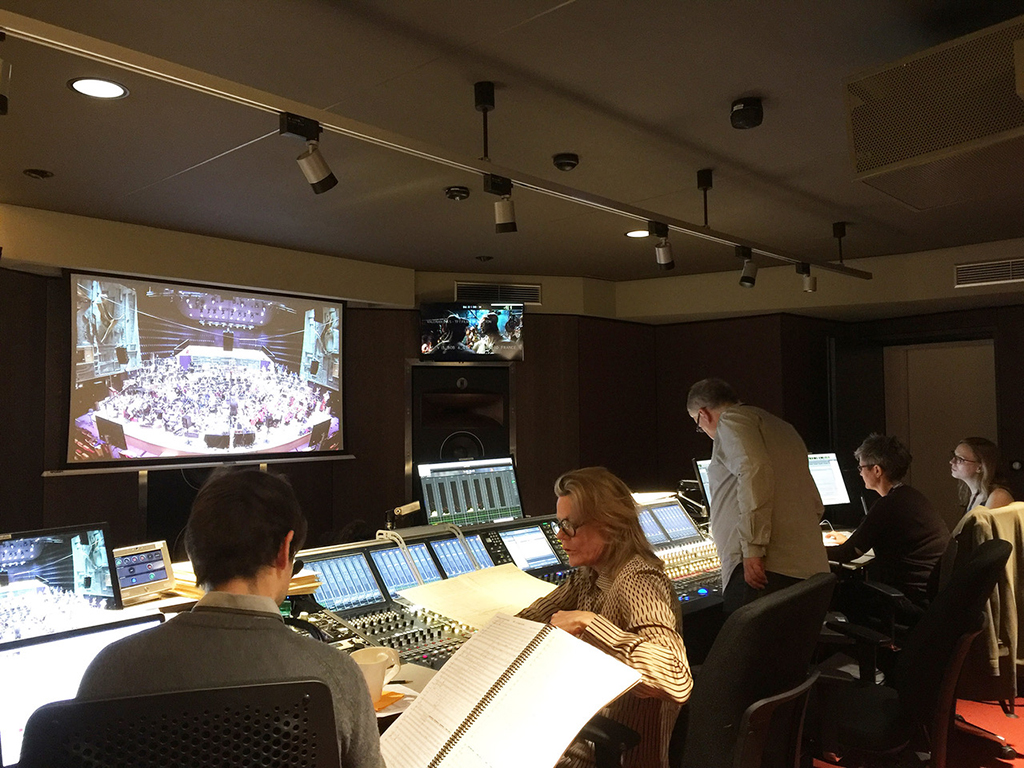 Setting up in Studio 104 at Radio France's auditorium in Paris with the Orchestre National de France to record the score, production company Europacorp was able to give Valerian's sound engineer Peter Cobbin the power and flexibility of a Lawo mc266 audio production console to do the job.
The project took Cobbin away from his regular role as Audio Director at Abbey Road Studios, where he is used to working on very large projects with some of the best equipment available. Chosen to handle similarly large orchestra ensembles, Radio France's mc266 operation was heavily customized to the recording's needs and Cobbin's workflow requirements. The complexity of the customization proved to be an excellent demonstration of its configuration possibilities and ease-of-use when configured for a specific task.
The complete score was recorded in ten days, accommodating the large Orchestre National de France – close to 105 musicians – plus the 32-strong choir from Radio France. In total, there were 158 audio sources plus six 5.1-channel groups to be processed and recorded at 96kHz, 24-bit resolution.
Radio France Sound Director Laurent Fracchia explains why he chose the mc266 for Studio 104: "When we had to change our console six years ago, we searched for a replacement that could handle recording, postproduction, and live broadcast. We wanted a console with high-grade preamps and excellent summing buses, and the Lawo mc266 was the best on the market. It is really amazing, and offers amazing flexibility according to my needs. And, of course, it is a great-sounding desk.
"I can change its layout while I'm mixing or recording or broadcasting without losing anything," he says. "During a production, complete projects are totally transportable on a simple USB key. As a result, I can record in an OB van and mix in the studio, which is fantastic workflow management. And if you need a special layout on the console, the Lawo-team is able to provide it almost instantly."
With a very tight schedule for "Valerian", and it being the first production of this size and quality to be produced solely in France, the facility and equipment had to be prepared in advance of the recording session. Lawo audio console specialist Hervé de Caro was on-site to oversee the production and to personalize the console to the specific needs of Peter Cobbin – who was impressed by its sound and the customization.
"Peter Cobbin is the Sound Director of Abbey Road Studios in London and asked for the same layout and routing flexibility he uses on his studio console," he says. "Using the extensive configuration possibilities offered by the mc266, I programmed and personalized the layout to meet his specific demands. At the end of the process, we had a console perfectly configured for Peter who was, in a very short time, relaxed and working efficiently. Of course, the "cherry on the cake" was the quality of the sound when we started the recording. The complete chain – based on Peter's microphone choice and placement, the Dallis mic preamps, the console summing quality, the acoustics of the studio and the monitoring loudspeakers – was perfect."
A trailer of the movie and its soundtrack can be viewed in advance of Valerian's release on YouTube here : https://www.youtube.com/watch?v=W3aOg6_7cEc