IDATE's latest report spotlights premium content right holders' strategies to tap the new internet territories. It provides a benchmark of OTT services launched by major rightholders. The study also provides the analyses and conclusions on these OTT strategies in highlighting their drivers and hurdles: technology, regulation, consumption patterns. Finally, it addresses the question of viability of an exclusive OTT strategy for Sport, Cinema & TV series right holders.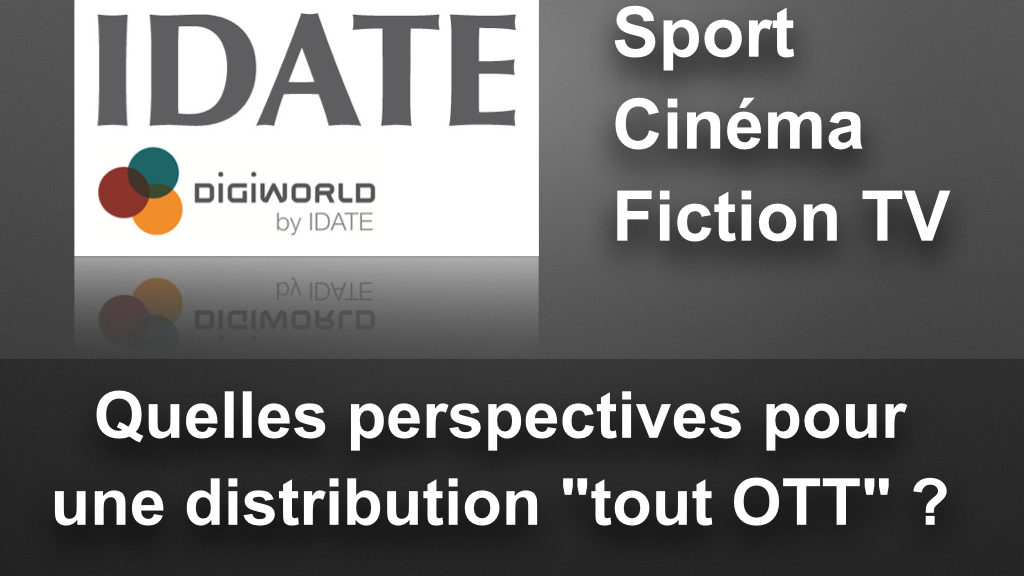 There is not a lot of audiovisual content that can be designated as 'premium'. Only fiction (films and TV series) and certain sporting events (depending on the country) meet the conditions necessary to merit the description: mass appeal, a certain rarity and desirable enough that consumers will pay for it.
Broadcast by a small number of providers (the importance of rights and the relative scarcity of premium content automatically limits the number of possible candidates), premium content belongs to a variety of players, such as in cinema where production is distributed among a large number of smaller players, although a few big US studios produce a large part of the sector's revenue.
The clear lines drawn with rights (by territory, time, medium) aims to maximize the potential value of the content and thus the revenues generated by the rights holders. Although television contributes significantly to revenues generated by film studios and sports leagues (about 20% on average), its contribution varies significantly depending on the country, the licensing fee model in place and the attractiveness of the content itself.
Florence Le Borgne, Head of Study, notes: "OTT-specific services present an obvious opportunity to premium content rights holders: to add value to content that has little or no exposure on television, to generate additional revenue, and to put pressure on traditional distributors and thus 'raise the stakes'."
The approaches taken so far have differed considerably
Release windows, either regulatory or contractual, limit opportunities for fiction rights holders to embark on an aggressive OTT strategy, which would probably compete directly with traditional distributors who provide the bulk of their revenues (cinemas, DVD publishers, TV channels). The biggest studios are adopting conservative approaches, working within the constraints and characteristics of specific geographical markets. Independent publishers favour OTT distribution via existing platforms, due to a lack of financial resources to distribute online content themselves.
Leagues and sports federations, who are not subject to the same constraints, have invested significantly in the internet to generate more value from redistribution rights of their events, either via a third-party operated platform for sports with little media coverage, or direct distribution for major sports. However, leagues and federations are adopting differentiated strategies per country to favour TV coverage across the board: the more their sport is televised, the less choice offered by proprietary OTT services. Note that the European football leagues focus solely on the sale of TV rights.
As direct distribution via the internet results in disintermediation for some of the players involved in the traditional distribution chain, rights holders could theoretically expect to capture a much larger share of the end market (up to 92% of the value with direct distribution compared with 28% in the current model). However, to date, traditional distribution is still more profitable because revenues from the TV end market are so large and no player has yet exclusively distributed its most premium content. However, models have shown that, for some sports leagues, moving to 'everything OTT' would be a viable option and would generate the same revenues as those of current TV rights.
Apart from the financial risk of moving to 'everything OTT' for rights holders and the lack of internal expertise in broadcasting video services, several obstacles can be identified: we can see a limited access to broadband internet in some markets as well as the number of active compatible devices (especially connected TVs with large screens), there are also regulations that favour traditional distribution in some countries, especially regulated release Windows and, the high level of dependence could involve reintermediation with a dominant web platform.
Finally are users ready to subscribe to every sport followed on an individual billing basis rather than a household package ?
Also, in the current context, only some sporting content would be a realistic candidate for migration from a rights holder's perspective (but not TV channels). OTT distribution of fiction would entail a profound upheaval which the various players in the value chain seem unwilling to accept.
Idate DigiWorld 2014 Source