By pooling their skill-sets, AMP Visual TV and Digital Immersion create a unique player able to meet with efficiency the growing demand generated by broadcasters regarding immersive technologies (VR/360). This joint venture will give efficient answers to a european TV need in demand of multiformats/ multiscreens solutions for live events...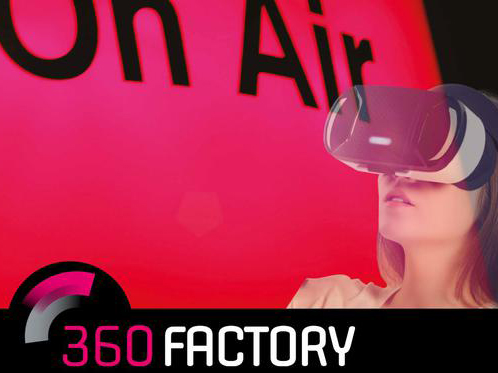 360-degree technology uses special camerawork systems to virtually create a video bubble inside which the viewer can interact using glasses or a simple mobile screen. The immersive sensation is striking and offers significant potential for audiovisual creation. Europe's first company devoted to 360-degree live film production, 360 Factory takes things a step further, allowing producers to offer this technology live.
"Over the past 30 years, AMP Visual TV has emerged as one of Europe's leading televised filming companies. The company has always strived to stay ahead of the major broadcasting trends," explains Business Development Strategy Director Stéphane Déry. "Over the last few years we have worked on a huge number of VR360 projects with the support of Digital Immersion, the French specialist in this type of filming."
The client list for this double helping of experience and expertise includes major broadcasters such as TF1, BeIn Sports, Canal+ and France Télévisions. "Experience is a key component of this technology," explains Julien Levy, Digital Immersion's Technical Director. "Combining our own skills with the shared ones brought to the table enables us to stay ahead of the game."
With the workflows having been fine-tuned, the two companies have now announced the joint venture they have set up in order to bring these services to the market on a larger scale.
360 Factory will offer clients all full-package turnkey solutions, from recording and post-production to streaming.
Specialising in filming for TV, AMP Visual TV offers its services across the entire production chain for live programmes or live filming and broadcasting. It boasts one of Europe's largest fleets of OB vehicles (30) and flightcases (6) for outdoor broadcasting and studios in the Paris area (20) including 8 with fixed video systems. The company is known as a pioneer in the field of new technological applications: HD OB vans, 3D film, 4K, digital RF, streaming, web server, Media Centre and VR360.
Digital Immersion is a trailblazer for 360° video in Europe. Founded in 2007, the company specialises in designing, producing and broadcasting multi-platform immersive content. The company quickly found a foothold in virtual reality, and is an expert in using the major headsets on the market today.
…To get a bunch of relevant informations regarding digital innovations and disruptives technologies – to discover exclusive presentations of products and services and also to develop your network – join Screen4ALL Forum 2017 in October.
The Forum also hosts the 360 Film Festival which deliver awards to best VR /360 experiences.
For more information, please visit : www.screen4all.com