ENENSYS Technologies & TDF are thrilled to have won the "Best use of HbbTV for Advertising & Promotion Award" for AdsReach last week at the 8th Annual HbbTV Symposium and Awards event in Athens, Greece.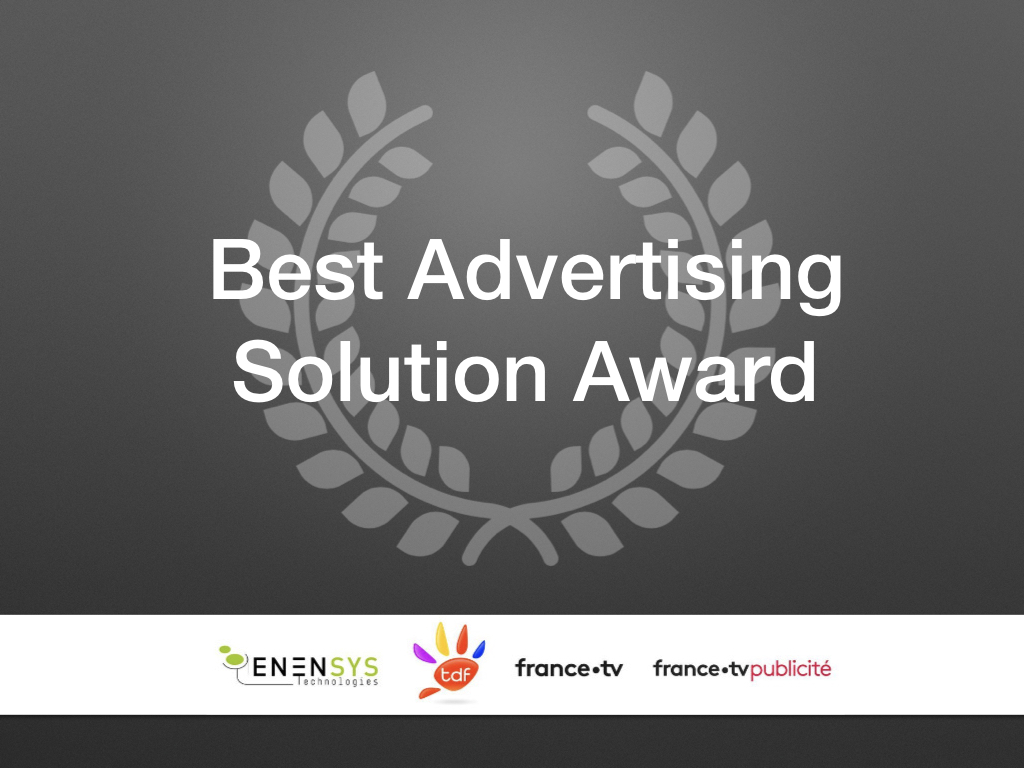 AdsReach, a solution developed through the partnership between ENENSYS Technologies & TDF, with the support of France Télévisions & France Télévisions Publicité, was the first data-driven Addressable TV Campaign to be tested on-air in France. This test, performed by France Télévisions & France Télévisions Publicité earlier this year, involved Havas and four advertisers. The data for the campaign was collected using TV viewer behavior, in full compliance with General Data Protection Regulation thanks to AdsReach TV Data, and segmented into four marketing categories (Family, Sport, Finance & Weather). With AdsReach Dynamic Ad Insertion, France Télévisions Publicité targeted households from each category and replaced the broadcast ad with the relevant ad.
Marianne Siproudhis, CEO of FranceTV Publicité, said: "This award for the AdsReach solution rewards a great technological advance for addressable TV on HbbTV, and above all a great collaboration between the teams of TDF/ENENSYS and those of France Télévisions Publicité. When the regulations will allow addressable TV, the advertising network will give the opportunity to its customers to receive more relevant advertising, depending on the profile of their households and their personal tastes."
Jacques Donat-Bouillud, ESVP of Distribution at France Télévisions, declared: "HbbTV is key to developing new services and enhanced user experience on terrestrial broadcasting."
President & CEO of ENENSYS Technologies, Régis Le Roux, declared: "We are extremely pleased to have been nominated by the HbbTV Association and we thank the independent jury of experts for this honor. We strive to bring innovative services to our clients and with AdsReach, to assist them with Targeted Advertising."
Franck Langrand, CEO of TDF Audiovisual Division, said: "TDF has identified this need very early on and has developed a solution that is one of the most advanced on the market. Thanks to the partnership with ENENSYS, the solution will now be completely industrialized to become the reference solution for the DTT environment worldwide. By marketing it to its French audiovisual customers, TDF remains focused on its positioning as a digital infrastructure operator in France."
The independent jury of experts was selected by the HbbTV Association and the entries were judged on their execution, impact and innovation. The HbbTV Symposium and Awards, which lasted from November 21st-22nd, 2019 showcased excellence in the HbbTV community.