SAM's Kahuna, IQ Modular and Sirius technology has been chosen for Euromedia's new fleet of three hybrid 4K OB vans commissioned to address the growing market for live events broadcasting, including sports, music and entertainment. The new OB fleet, comprising one large and two smaller vehicles, has recently been used by broadcaster Canal+ for a 4K HDR football broadcasting trial between Olympique Lyonnais and PSG in February. The fleet will also be used for European football championships, the Tour de France and other sporting events later this year.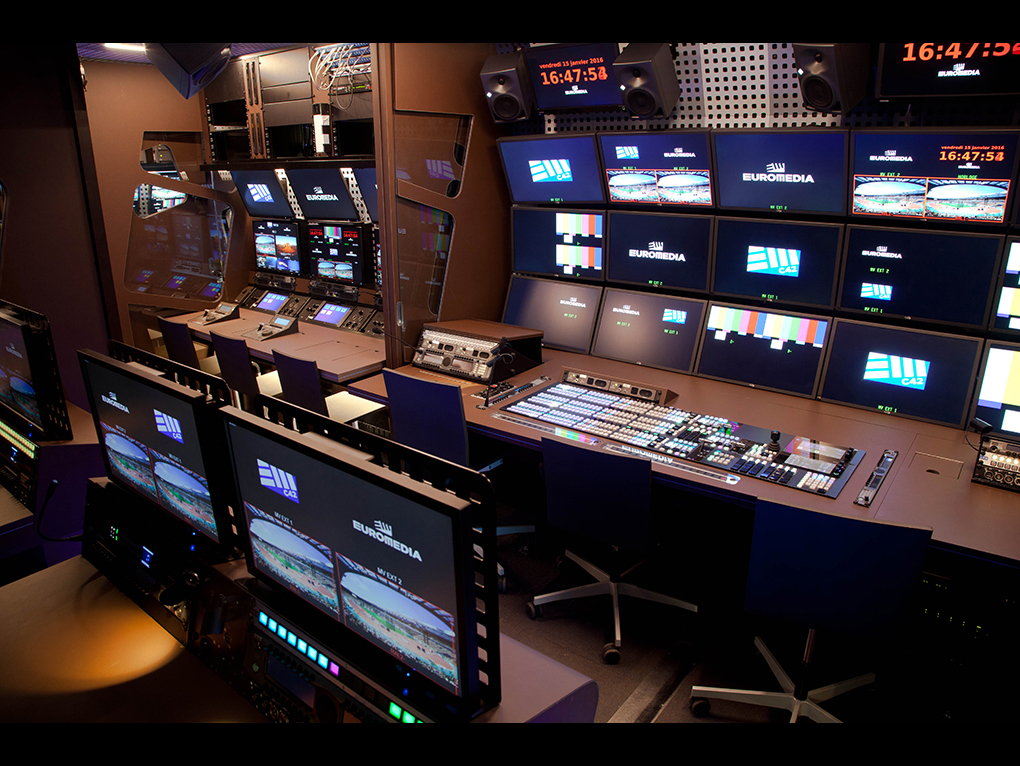 Euromedia turned to SAM for its new OB vans due to the flexibility and reliability of its products, as well as the level of post-sales and technical support provided. Consistency across all of its operations was also a consideration in the decision to invest in SAM technology: Euromedia wanted to ensure that its operators could switch seamlessly between OB vans to ensure maximum efficiency.
The broadcast services provider has invested in SAM's market-leading Kahuna 9600 production switcher for its multi-format capabilities. Enabled by SAM's unique FormatFusion3 technology, Kahuna supports any combination of SD, HD, 1080p (level A & B) and 4K environments. Kahuna also allows Euromedia to avoid the need to use valuable space within the OB van for external conversion equipment.
Euromedia has also installed SAM's Sirius 800 routers with advanced hybrid processing (AHP), integrated with VSM controllers, in its new OB vans. The Sirius 800 delivers operational flexibility, redundancy and provides processing capability on every input and output. This latter feature generates huge space, cabling, cost and power savings – all critical within an OB environment.
Euromedia is an existing SAM customer, having already invested in its ICE CiaB and Morpheus playout automation technology.
Gaël Tanguy, Technical Director at Euromedia said, "Our aim is to remain the premium technical service provider in the broadcast live events space, whether we're talking about the summer athletics, a major football tournament or a live music event. We've worked closely with SAM to help us reach this goal, and the support that they provide us on a day-to-day basis is critical. SAM offers the best solutions to help us build our operations to cope with whatever our customers require."
Formed from the fusion of Quantel and Snell, SAM is a new company with a unique mix of experience and energy. The company has the vision to deliver business-transforming solutions across the media production ecosystem. Its future-ready systems enable broadcasters, content owners and service providers to evolve their business models to succeed in the consumer-driven era.
Euromedia, the French leading provider in broadcast facilities and services (part of the Euro Media Group), provides a wide range of technical and human resources with a great collection of studios and fleet of mobile facilities. Focused on new media, Euromedia is recognized for its wealth of experience in international sports, live performances and entertainment production. Offering a large range of services, advanced knowledge in technology and a strong ability to innovate, Euromedia provides clients with its specialist knowledge, delivering a high quality service.