Dedicated to new funding avenues and to innovating uses and technologies for TV, film and new screens, the third edition of Screen4All Campus will be organized around three main topics: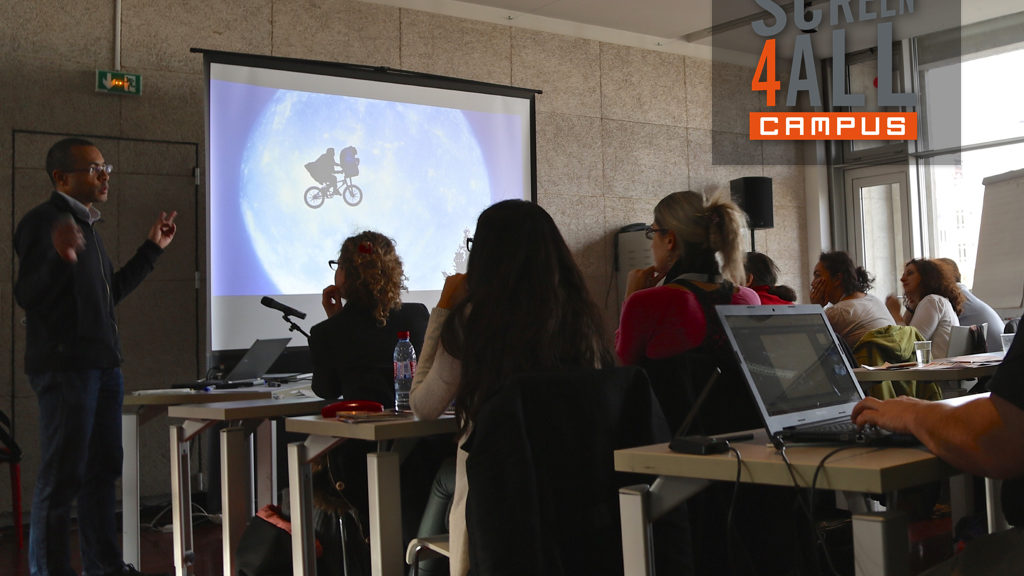 – new funding opportunities
– technological innovations
– new audience behaviors and consumption habits
All issues related to crowdfunding, audience engagement, digital marketing, 4K and VoD platforms will be scrutinized by some ten international experts. Supported by the EU's "Creative Europe" program, Screen4All Campus will provide key information on project management to 25 participants from all over Europe.
Screen4All Campus 2015 will be held from October 12 to 16, 2015, in the Paris area.
Trainers present this year will include:
Eric Viennot – French multimedia creator
Nicknamed the "French pope of transmedia", Eric Viennot co-founded Lexis Numérique, an indie videogame studio in 1990, and still serves as its Chief Creative Officer.
Eric started his career as an art teacher at the Sorbonne University for 5 years, and has 20 years of experience as a creative director. He is the creator of "Missing: since January" (also known as "In Memoriam"), one of the first ARGs (alternate reality game), voted Best Adventure Game at E3 (JustAdventure.com) and Game of the Year (CGW), and winner of an Imagina Award. He had previously created the Uncle Albert series (also known as "Les Aventures de l'oncle Ernest"), one of the best selling children's games series in France. "Uncle Albert" won more than 30 international awards and was translated into 15 languages. More recently, Eric wrote and directed "Alt-Minds", a "real-time" thriller and ARG that stands out as one of the most immersive transmedia experiences in recent times.
Thomas Bideau – Analyst at ICO Partners
Thomas Bidaux is among Europe's foremost experts on Kickstarter. He has been actively involved in the operation and development of online games for 15 years now, making him one of the most experienced professionals in the field. In 2004, he set up the European branch of online game giant NCSoft in the UK. He led the company's efforts to expand its game portfolio with European-based development through various third party deals and the creation of a Brighton-based studio. Since April 2008, he manages his consulting agency ICO Partners, supporting small and large video game companies in their online strategies as well as their approach to the European market.
Since 2012, he has also been a regular speaker at conferences on the opportunities of crowdfunding platforms, using the extensive data gathered using proprietary tools and sharing his experiences running multiple successful campaigns for his clients. Thomas Bidaux is one of the best experts and analysts for crowdfunding campaigns.
Franck de Visme – General Manager at Blue Frog Robotics
Franck de Visme started his career in 2002 with Tetraedge Game, where he was CEO among other positions. In 2011, he joined Hanakai Studio as a business developer, then created Earthlings, a web 2.0 agency. Since March 2015 he has been the general manager of Blue Frog Robotics, the start-up company developing Buddy, the companion robot that is accessible to all.
Margaret Dunlap – Independent TV screenwriter, USA
Margaret Dunlap made her multiplatform storytelling debut as a screenwriter, director and executive coproducer of The Lizzie Bennet Diaries, an Emmy-winning transmedia adaptation of Jane Austen's famous novel Pride and Prejudice. Margaret then collaborated on a groundbreaking project by Pemberley Digital that builds upon the previous one: Welcome to Sanditon. In addition to adapting Jane Austen's works to online TV, Margaret worked on SyFy series Eureka as well as on cult ABC Family series The Middleman.
About Screen4All Campus:
Screen4All Campus is a training course sponsored by the "Creative Europe" program. Dedicated to new funding avenues and to innovative uses and technology for TV, film and new screens, the 3rd edition of Screen4All Campus provides an overview of the innovations related to the digital revolution in terms of technology (4K and VoD) and financing, with an particular emphasis on social networks. Screen4All Campus is organized by Avance Rapide Formation, with support from Gobasha (a consulting firm specialised in content development and brand image, combining neuroscience, gamification and big data), MyMajorCompany (a European crowdfunding platform), EUROVOD (a network of independent European video on demand platforms, specialised in art house and independent films), the CIANT (the Prague-based International Center for Art and New Technologies), and Éclair (a digital film laboratory).
For more information, visit www.screen4all.com