Through a series of talks given during the day-long event "Screen4All Santé", experts in new technologies will share their thoughts on big data, augmented reality, 3D printing, high-resolution visualization, web and mobile apps, connected objects and serious games. This will allow "Screen4All Santé" to offer a comprehensive view of the innovative solutions that were developed to improve the efficiency and quality of health care.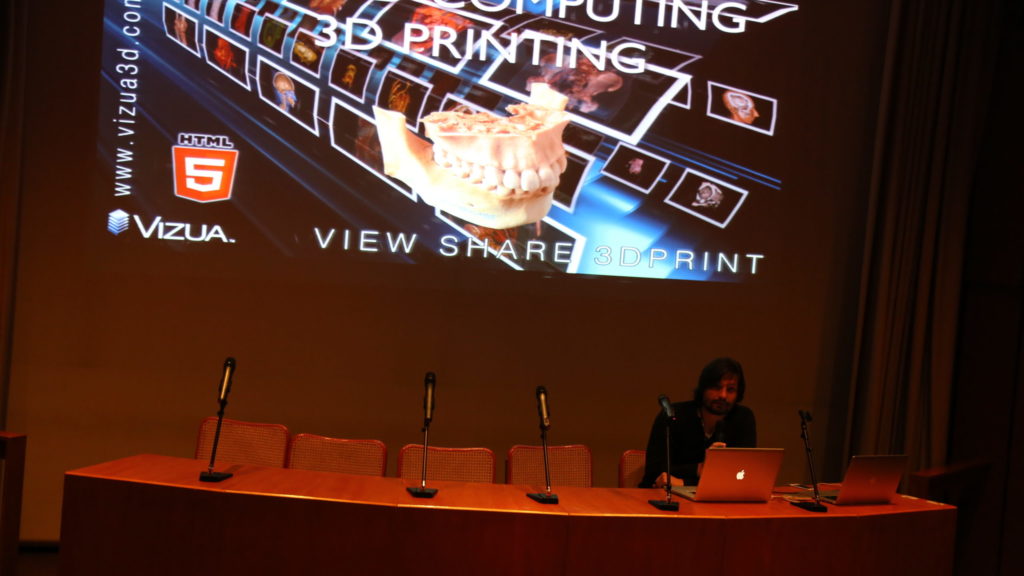 Screen4All Santé is a full day of conferences, demonstrations and workshops, highlighting the applications of new technologies at the service of health and well-being. The day dedicated to health does not aim at discussing these innovations from a therapeutic perspective, but it will explore how these technologies and new uses can be used in diagnosis, communication, training, etc. as virtual reality, augmented reality, 4K, connected objects, big data and 3D printing are all innovations that contribute to the development of health care and science.
Screen4All Santé (Digital Health) is organized by Avance Rapide, Biocitech and Cap Digital as a part of the Futur en Seine initiative, with support from the general council of Seine-Saint-Denis, and will offer a unique opportunity to promote talents, research, and innovation, but also to present a resource hub in the area: Biocitech.
Screen4All Santé (Digital Health) will be held on June 20, 2014, in Biocitech's offices at 102, avenue Gaston Roussel – 93 230 Romainville (France)
"Traditional medicine is undergoing dramatic changes. New technologies are undergoing remarkable expansion, and they are revolutionizing the way medicine is done, especially by changing the therapeutic approach. This results in developments in robotics, digital technologies, high technologies and virtual reality, as they all allow for the improvement of health care and the optimization of therapeutic, preventative or diagnostic strategies," explains Raphaël Mastier, Health Industry Market Development Manager at Microsoft France.
"High-added-value themes, especially in the medical sector, deserve their own time slot and their own networking platform: this is why we have set aside a full day for Screen4All Santé," adds Stéphan Faudeux, general manager of the event.
For instance, visitors will be able to follow presentations by SkinPrint's Ingmar Van Hengel, about early research on producing human skin using a 3D bio-printer, and Shapelize's Bertrand Busson, 3D printing expert; these experts will give an overview of the latest innovations, new solutions and opportunities for development in the field of 3D printing.
Medical imaging specialist Sylvain Ordureau, founder of Vizua 3D, will also give a presentation of Vizua Healthcare at 11.15 am: this application lets users process and edit images from 3D scanners, so that they can easily printed in 3D.
As for big data, it will be tackled over a round table discussion at noon with Julien Artu of My Hospi Friends, the first social network designed to connect hospitalized patients, Raphaël Mastier of Microsoft, a major player in the digital revolution, and Guilhem Fouetillou of Linkfluence, a leader in social media intelligence. They will discuss a number of issues, including potential synergies and sharing with health care professionals.
Sen.se's Rafi Haladjian, inventor of Mother, will give a talk at 2.00 pm alongside Julien Gachot of Diamond Juice Labs, Gilles Sonou of Mobile Health, a leader in mobile solutions for health, and Alexis Normand of Withings, a maker of intelligent health-based devices; they will discuss the potential for development of connected objects.
Finally, at 3.00 pm, a conference will present augmented reality, stereoscopic 3D and serious games, all of which are already used in the audio-visual industry, but can also be exploited in the field of health care. Speakers will share their expertise in this area, including Alexandre Saudinos and Carlo Sirtori of Parallell Cinema, a studio specialized in stereoscopic 3D (S3D) production; Jérôme Leleu of Interaction Healthcare, an interactive agency specialized in the health industry; Pierre Foulon of the GENIOUS group (health care department), designer and producer of serious games; and Didier Debons of Neo Telecoms, a national infrastructure operator.
For more information, please visit the conference schedule online: click here
Interested in attending Screen4All Santé ?
Register online for free, by clicking the following link: click here