Serving as a showcase for VR/360 production since 2016, the 360 Film Festival is now open to a wider variety of immersive contents, with this year marking the introduction of augmented reality and large-format content. Prizes will be awarded in each of the competition's categories, as well as a special Grand Jury Award on November 6, during SATIS-Screen4ALL* trade show.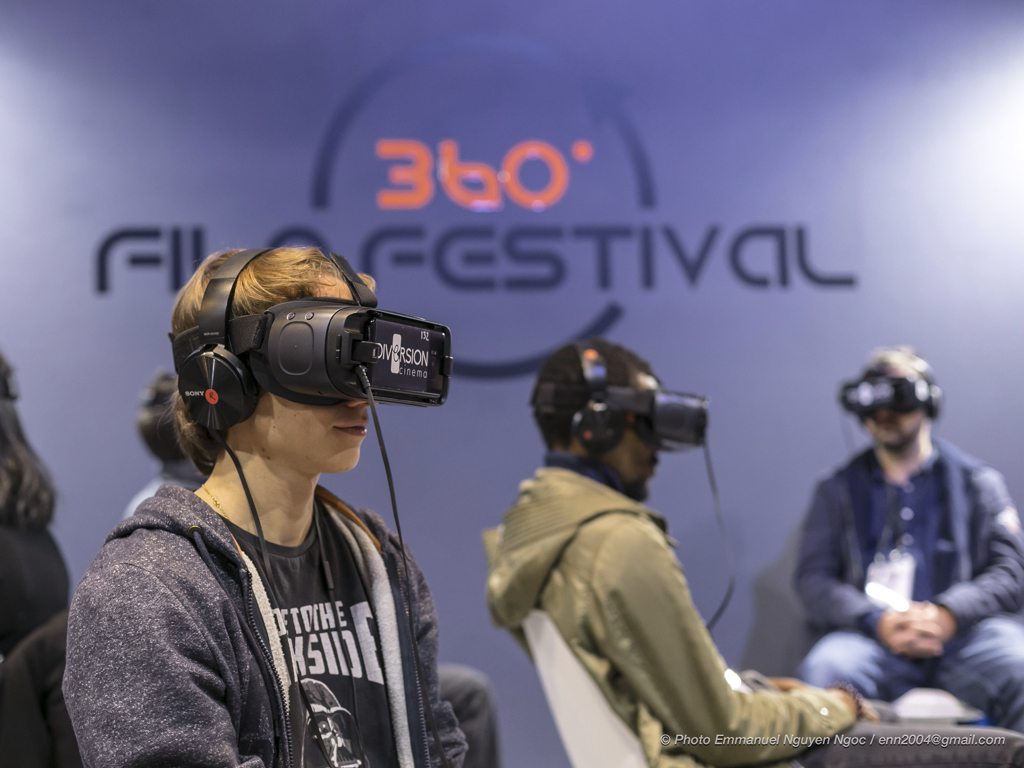 Contents will be submitted to a panel of a dozen international experts. Thirty programs will be selected to be screened at the #360FilmFest theater during SATIS-Screen4ALL*, and around 40 programs will be nominated for the 360 Film Festival awards.
360 FILM FESTIVAL CATEGORIES
6 VR/360 categories:
FICTION
DOCUMENTARY / NEWS
CORPORATE FILM
ENTERTAINMENT (Games / Theme parks)
LIVE MULTI-CAMERA CAPTURE (Sports / Concerts / Events)
ART
3 AUGMENTED REALITY categories: 

ENTERTAINMENT (Fiction / Games / Reports / Magazine)
MUSEUMS / THEME PARKS
CORPORATE FILMS (Comunication / Advertising / Training)
The Festival also opens to a LARGE FORMAT category, dedicated to:
3D MAPPING
360° SCREENINGS
DOME SCREENINGS
8K and up CONTENTS
In 2017, the 360 Film Festival received over 130 submissions from 24 countries, 60 of which were selected for two days of screening in a dedicated projection room on Screen4ALL, showcasing the creativity and diversity of this new immersive media. Six programs received an award, including Jérôme Blanquet's Alteration (Production: Antoine Cayrol – OKIO Studios) – France in the Fiction category, and Jayisha Patel's Notes to my Father (Production: Reel FX Creative Studios) – India and UK in the Documentary category.
See the 2017 winners > http://buff.ly/2ra3EZN
Important dates in 2018
June 19: Call for submissions to the 360 Film Festival opening
October 2: Call for submissions to the 360 Film Festival closing
October 9: Deadline to send content

November 6: Awards ceremony
November 6 & 7: Screening of selected contents in the #360FilmFest during SATIS-Screen4All*.
To register and view the terms and conditions, please visit:
http://www.satis-expo.com/en/ ("Events" section, then "360 Film Festival")
For any question, please contact us at:
Follow us on social networks:
Facebook: Screen4All / Twitter: @Screen4allforum / LinkedIn: Screen4ALL group
SAVE THE DATE for next fall big event!
*About SATIS-Screen4ALL
SATIS-Screen4ALL is the biggest rendez-vous of the French-speaking audio-visual community. The event gathers professionals from audiovisual, television, cinema, communication and integration fields.
On November 6 and 7, SATIS-Screen4ALL will take place near Paris with a trade show hosting 150+ companies and 40+ workshops and conferences.
Produced by Génération Numérique (publisher of Mediakwest and Sonovision magazines), the show also hosts the Screen4All forum which represents the SATIS Lab. This forum, devoted to innovative technologies and new audiovisual uses, proposes a start-ups village and prospective conferences dedicated to disruptive innovations (Blockchain, Artificial Intelligence, Augmented Reality …).
In 2018, SATIS-Screen4ALL focuses on 4 topics:
• Immersive universe (virtual & augmented)

• Sport & New Images

• New Workflows (Cloud & Artificial intelligence)
• Content protection and security
Dates : November 6 & 7 2018 – Place : Docks de Paris