Four prizes, as well as two "jury's favorites", were given during Dimension 3 Festival's award ceremony, an event showcasing the best in international 3D and 4K contents. The award ceremony was held during Screen4All Forum an event organized from October 28 to 30 at the Centre National de la Danse in Pantin (just outside Paris, France).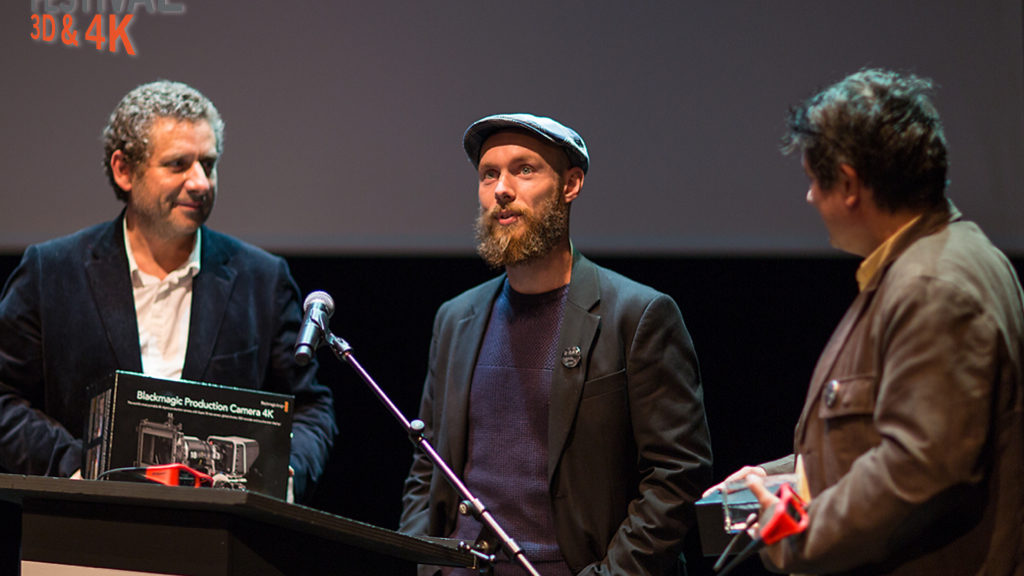 French documentary D-Day: Normandy 1994 with François Cluzet, directed by Pascal Vuong and produced by French company N3D LAND FILMS was awarded the festival's Grand Prize, as well as a Blackmagic Cinema 4K camera. D-Day: Normandy 1944 shows in great detail the gigantic military operation that changed the world 70 years ago, by delving into its geostrategic context and the painstaking ingenuity involved in preparing it. This documentary is currently being screened to audiences in IMAX, at the Géode cinema in Paris: http://bit.ly/1zrLbcH
The prize for creativity was awarded to Estonian fiction Lisa Limone and Maroc Orange, a Rapid Love Story, directed by Mait Laas and produced by Arvo Nuut, Andrus Raudsalu, Misha Jaari and Mark Lwoff and produced by Nukufilm. This stop-motion film in stereoscopic 3D tells a love story between Maroc, a brave hero bound by prejudice and poverty, and Lisa, the daughter of a rich businessman and tomato ketchup plantation owner. Recipients of the prize for creativity also received an Ultrabook™HP ZBook 14 station.
The prize for best 4K film was awarded to Mysteries of the Unseen World, directed by Louie Schwartzberg and produced by Jini Durr and Lisa Truitt. Distributed by National Geographic, this documentary uses incredible macroscopic images to take viewers into a world that cannot be seen by the naked eye. The producers received a one-year subscription to Adobe's Creative Cloud.
The prize for best 3D film was awarded to French documentary Amazonia, directed by Thierry Ragobert and produced by Gédéon Programmes. This docufiction film follows the journey of a capuchin monkey, born and raised in captivity, who finds himself alone and lost in the endless Amazon jungle. Through him, viewers discover a luxuriant wilderness. The images used to tell this story, which shows off amazing landscapes and animals, were filmed by Binocle, a French company and a pioneer in stereoscopic 3D filming. Gédéon Programmes received a one-year subscription to Adobe's Creative Cloud.
In addition, the jury members picked two favorites films: among 3D films, the jury's favorite was German documentary Inside the Great War, directed by Nikolai Vialkowitsch and produced by Stefanie Knoll and Gunnar Dedio. This film shows, for the first time, historical pictures originally taken in 3D using glass plates. Most of these stereoscopic photographs are part of the ECPAD's heritage collection (a branch of France's ministry of defense in charge of conserving the armed forces' audiovisual and photographic collections). Finally, the jury's favorite among 4K films was French short film Diagnostic, directed by Fabrice Bracq and produced by Sam Bouchard. Diagnostic is the story of Dr. Semyc, an expert on a very common disease for which there is no cure, who has mastered the delicate craft of announcing the diagnosis to patients.
Click here to see the full list of nominated 3D and 4K programs: http://bit.ly/1rqnZCN
About Screen4All Forum
Screen4All, the forum on disruptive technologies and new uses for film, television and new screens, is the successor of "Dimension 3, the new dimensions of images," launched in 2007. This event aims at offering participants opportunities for development, by providing insights into how the creation and distribution of digital contents are evolving, and by fostering international networking. During three days, Screen4All Forum breaks down the barriers that traditionally separate production, technology and investment. This event is organized by the Club HD and Avance Rapide. The Seine-Saint-Denis region, which has supported Dimension 3 for 5 years, now supports Screen4All.