Nouvelle étape décisive pour le campus universitaire de Cannes : David Lisnard, Maire de Cannes, et Laurent Vallet, Président-directeur général de l'Institut national de l'audiovisuel (INA), ont signé il y a un mois une convention-cadre pour les trois prochaines années pour soutenir et promouvoir le patrimoine et la création audiovisuels auprès de l'ensemble des Cannois...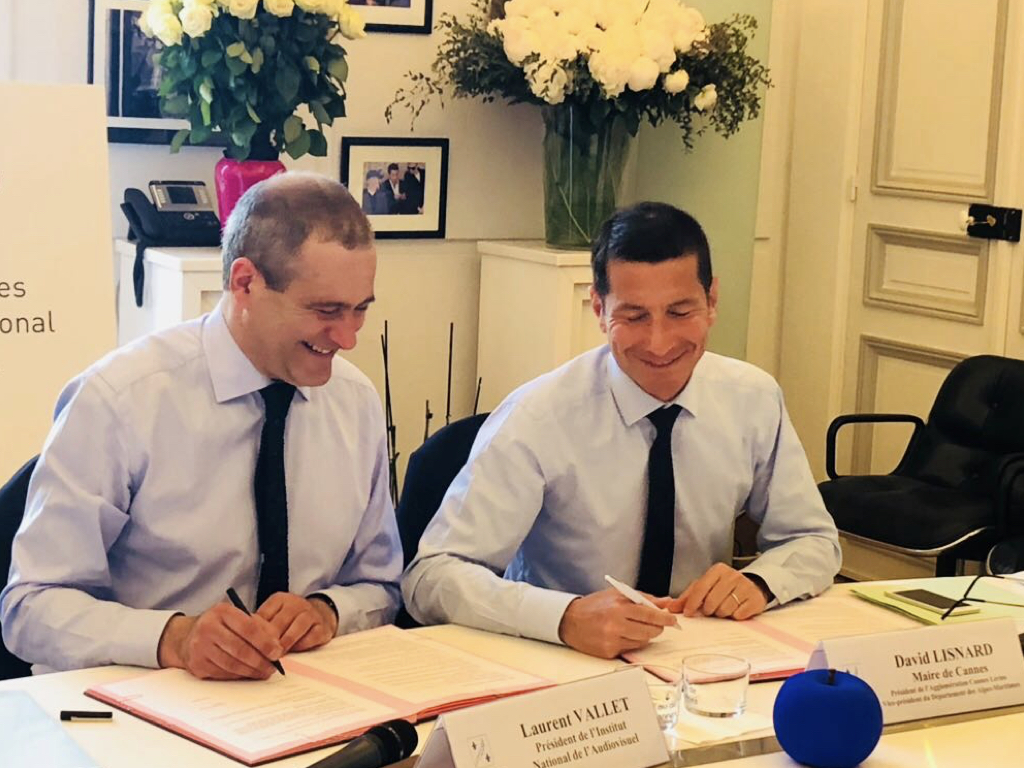 Depuis 2014, David Lisnard a initié de grands projets pour développer à Cannes la filière de l'économie créative : citons la création de la pépinière d'entreprises à Bastide Rouge, le lancement du futur campus universitaire qui accueillera 1 000 étudiants dès 2019 avec des formations notamment tournées vers l'image et l'écriture, des partenariats prestigieux pour proposer des contenus pédagogiques d'excellence, un hôtel d'entreprises et un multiplexe cinématographique. Avec ce nouveau partenariat, l'INA accompagnera la Mairie de Cannes pour favoriser la préservation et la transmission de la création et de la production audiovisuelles, et enrichir la filière cannoise.
L'INA, acteur majeur de la formation professionnelle aux métiers de l'audiovisuel et des nouveaux médias, s'associe au Technopôle de l'image et de l'économie créative développé par la Mairie de Cannes. L'Institut dispensera, dès l'été 2018, au sein du pôle universitaire cannois, en partenariat avec l'Université Côte d'Azur (UCA), deux formations professionnelles autour de la réalité virtuelle, de l'écriture et la narration interactive.
Il s'agira, d'une part, et c'est une première en Europe, d'une formation de showrunner dans le domaine de la production de séries et, d'autre part, d'une formation dans la création d'images 360 et de réalité virtuelle.
La qualité des enseignements proposés sur le campus universitaire cannois sera ainsi enrichie grâce à la participation de l'INA, en complément des partenariats déjà établis notamment avec l'UCA et l'UCLA TFT (University of California Los Angeles, School of Theater, Film and Television).
Par la suite, des projets de recherche à partir des sources audiovisuelles et des métadonnées conservées par l'INA seront développés sur le pôle universitaire dans le cadre de formations qualitatives.
La Mairie de Cannes et l'INA confirment leur engagement commun pour la valorisation du patrimoine culturel et audiovisuel : enrichissement du site « Histoire de la ville de Cannes », co-organisation d'ateliers pédagogiques d'éducation à l'image, mise en place d'un « espace INA » pérenne, etc.
L'INA poursuivra et développera également sa participation aux grands événements cannois : Festival de Cannes, MIPCOM, MIDEM, MIPIM, CANNES LIONS, MIPTV, CANNESERIES, etc. et partagera ses contenus avec le plus grand nombre.
« La confiance accordée par la Mairie de Cannes à l'INA et à son expertise dans les domaines de la création, de la production et de la formation professionnelle honore l'entreprise toute entière. Cette convention permettra notamment à l'INA de valoriser ses contenus de façon plus importante et visible dans le cadre des grands évènements audiovisuels cannois, ce dont je me félicite. » Laurent Vallet, Président-directeur général de l'INA.
« L'engagement de l'INA témoigne d'une volonté de s'impliquer aux côtés de la Mairie de Cannes pour soutenir des projets qui emportent sa confiance. C'est d'ailleurs à l'aune de cette confiance que se sont construites les relations de qualité entre Cannes et l'INA qui a toute sa place dans les domaines de l'éducation à l'image, de la diffusion de contenus d'archives ou de projections, en particulier dans le cadre de la création du futur Pôle universitaire. » David Lisnard, Maire de Cannes.