The names of the four winners of the eighth edition of Dimension 3 Festival will be unveiled next Tuesday, October 28, during a special evening at the Centre National de la Danse in Pantin. .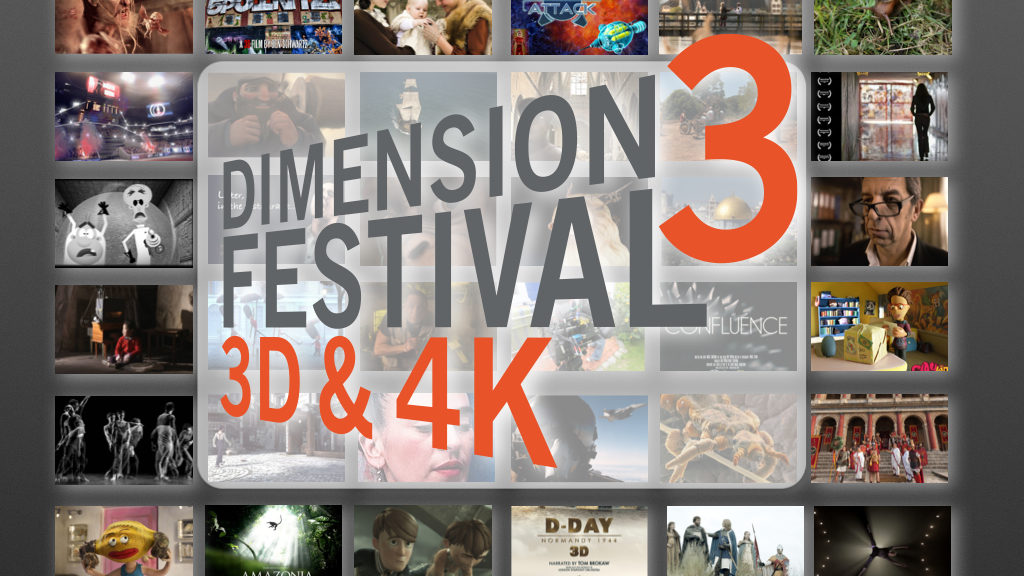 This ceremony will take place for the first time in the heart of Screen4All – The Forum of Disruptive Technologies and news uses for Cinema, Television and New Screens.
A Grand Prix, an Innovation Award, an award for Best Film 4K, an award for the best 3D Movie will be given.
A 4K camera Blackmagic Cinema will be offered to the winner of the Grand Prize and the winner of the Innovation Award will receive the all new Ultrabook ™ HP ZBook 1…
A pre-selection of forty films in all categories are now running for the final competition. These independent productions from Germany, Italy, Spain, France, Portugal, USA, New Zealand, Netherlands, Cyprus, England, Mexico reflect a great creative and cultural diversity valued by 4K and 3D technologies … We invite you to discover these images!
The selected programs in competition
4K Category
LA STORIA DI SONIA – DIAGNOSTIC – CLAY KIDS, PIRANHA – NEMAUSUS, LA NAISSANCE DE NIMES – AIGUES-MORTES, UN PORT POUR LES CROISADES – PABIA DI AOS / Because of Today – JERUSALEM – CONFLUENCE – MYSTERIES OF THE UNSEEN WORLD – LES VÊPRES DE MONTEVERDI
3D Category
INSIDE THE GREAT WAR – 3D FLAMES – THE WHITEWASHING OF 5 POINTZ – COMPROMISO – A LA 15 – D-DAY: NORMANDY 1944 – OPERATION LUNE: L'ÉPAVE CACHEE DU ROI SOLEIL – AMAZONIA – AUGURIES OF INNOCENCE – HSU JI, DERRIÈRE L'ÉCRAN – MONKEY SYMPHONY – L'INCROYABLE MARREC – LA VIE EN VERT – FORWARD, MARCH! – ENTRACTE – BEYOND THE LINES – 100M – THE 3D-MACHINE, THE SERIES (EPISODE 3 & 4) – CARTA DE LA MUERTE A FRIDA – FRAMES – LISA LIMONE AND MAROC ORANGE; A RAPID LOVE STORY – VIY – CALL HER LOTTE – MAKE BELIEVE – VIRUS ATTACK – LOVE, LIFT ME… – X – GIANT SNAILS – AIRGROUND – LATER IN A RESTAURANT –
For detailed information about these films, please visit: http://buff.ly/1wmJaKg
You can watch all of these films during screening loops scheduled on Screen4AllForum :
– On October 28 and 30: screenings of 3D films.
– On October 29: screening of 4K films during the Ultra HDay, a special day dedicated to 4K / UHD topics
(Free admission if you register online before October 26)
Dimension 3 invites you to the awards ceremony on Tuesday, October 28 at 07:30 PM. To book a place send a mail to : contact@screen4all.com