VideomentheCloud collaborative media content sharing platform in the shooting of a film pilot in Montpellier. Used mainly to transfer the footage to post-production in Paris, the platform permitted the transfer of the files during the fortnight of filming, facilitating the work of the teams in Montpellier and Paris.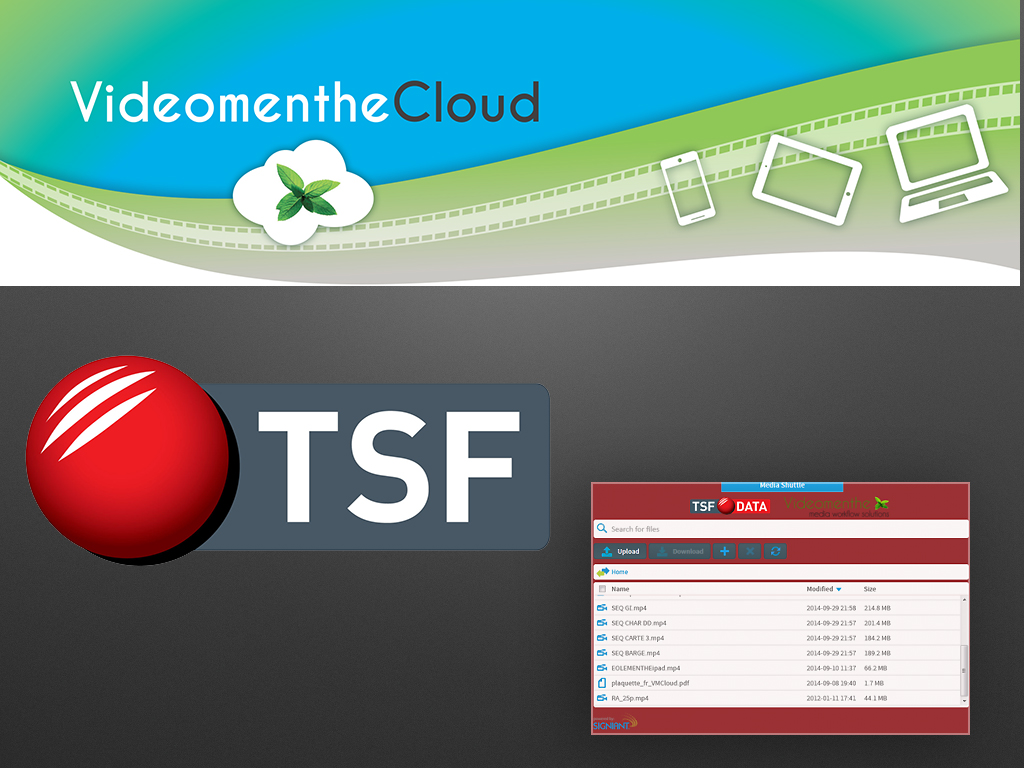 " The VideomentheCloud platform is an intuitive tool that is simple to use, said Danys Bruyère, TSF's deputy director for operations and technology. As well as solving the issues of mobility and reducing our infrastructures, this sharing platform gave us thorough control over all of our content during filming, providing complete visibility and traceability and avoiding any loss of files or wasted time. Most of the file transfers were of film footage, so it was crucial not just to preserve quality, but also to save time in the post-production phase, by ensuring the rapid availability of the files.Videomenthe was able to offer us a reliable solution in step with these needs, in the form of its VideomentheCloud platform".
VideomentheCloud, based on the MediaShuttle system from Signiant, allows users to share content in a restricted-access storage area provided by Videomenthe. Upstream, the system administrator carries out a configuration to customise the interface and establish the access rights : selection of group members, their rights and the method of identification (using a login or SAML2.0 gateway). The user then connects to the portal and ingests files to the platform to make them available. This content can then be downloaded or can equally well either be stored or purged, according to need.
Videomenthe sales manager Eric Schaffner said : "With VideomentheCloud, we are also offering great flexibility : our clients are free to choose how long they want to commit to, allowing them to benefit from a very attractive price for optimal use of the platform. TSF is a perfect example of this, making ad hoc use of VideomentheCloud to transfer its files during filming in Montpellier. By providing this solution to the Paris-based company, Videomenthe has demonstrated its ability to update this type of operation and to simplify its clients' work for them. We are keen to be able to collaborate with TSF again in the future and so to be involved in this way in the development of French broadcast productions."