SolidAnim, Vicon, and Unity Technologies have combined forces to demonstrate new virtual production workflows to the French entertainment industry on Wednesday, March 18, 2015, at Institut Georges Méliès, 26 avenue Guy Moquet 94310 Orly, at 4:00pm. Other partners participating include Popcorn Fx, Art Graphique et Patrimoine, Open Zone, Equilibre Games, and Game Audio Factory.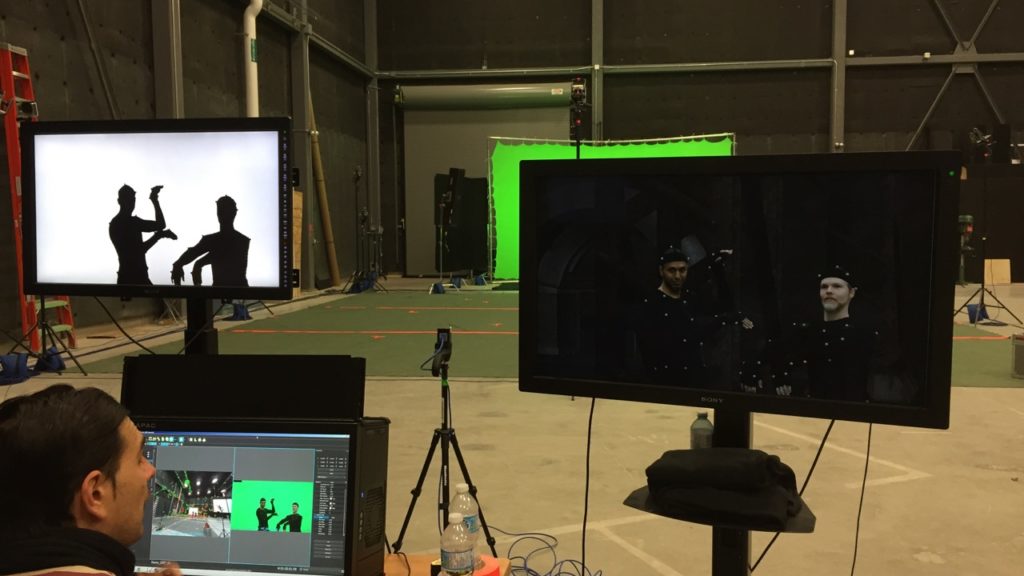 This exciting event will showcase the synergy between leading industry companies in the film, broadcast, corporate video, imaging and videogame industries in virtual production workflows. New methods of filming with special effects in real time displayed during shooting will be demonstrated. The demonstration will combine photorealistic virtual sets, a 3D animated character with motion capture in real-time that will interact with a real protagonist, filmed on a green screen background and inlaid in real-time with previous quoted elements.

Film makers and technicians will see a new unified configuration offers more intuitive shooting, which allows them to plunge directly into the mixing real of real/virtual without being dependent on usual post-production deadlines.


– SolidAnim was founded in 2007 by Isaac Partouche and its two co-founders Jean-François Szlapka and Emmanuel Linot who put together their different skills in VFX, Animation and Cinema fields to build a highly efficient and passionate team.

SolidTrack is a real time camera tracking solution for recording camera moves and data logging of camera moves on the virtual set. This simple yet versatile markerless camera tracking system for the film and broadcast industries addresses virtual production needs. SolidTrack's flexibility allows filmmakers to shoot both indoors and outdoors with the same high quality results.
For the common demo of March 18th, SolidAnim 'SolidTrack will be used for the on set real time vizualisation. SolidTrack brings a revolutionary approach of shooting providing a more ergonomic and intuitive solution. SolidTrack combines real-time camera tracking and augmented reality previzualising VFX while shooting. Producers achieve greater control of VFX budgets and timescales, minimizing wastage and ensuring efficient delivery, from previz to the final movie or television show. Comparing to traditional shooting methods, producers save approximately 30% time on a film or television show utilizing SolidTrack.

SolidAnim's SolidTrack system was utilized on Emmy-nominated and Visual Effects Society winner Cosmos: A Spacetime Odyssey and the upcoming Alice in Wonderland 2: Through The Looking Glass film and The Walk, Robert Zemeckis' latest film, as well as other productions such as Da Vinci's Demons series.

– Vicon delivers highly accurate motion capture systems for use in VFX, broadcast, life sciences and engineering applications. Its flagship camera line, the Vicon T-Series, offers the highest resolution, frame rates and accuracy available, allowing detailed motion capture in almost any environment.

Designed for a future where motion capture and live action shooting become indistinguishable, Vicon's Blade capture software will be used for SolidAnim's common demo. Blade captures performances effortlessly in real-time and delivers robust, reliable data that enables creativity.

SolidAnim will also use Vicon's Pegasus software. Pegasus is a retargeter that enables anyone to take advantage of the beautifully dynamic environment of a game engine, or become fully immersed in one of the many industry leading ergonomic packages.

– Unity Technologies is revolutionizing the game industry with Unity, the breakthrough development platform for creating games and interactive 3D and 2D experiences like training simulations and medical and architectural visualizations, across mobile, desktop, web, console and other platforms.

For the common virtual production tool, Unity 5 will be used. Unity 5 is the new edition of the best development platform for creating 2D/3D games and interactive experiences. Unity 5 brings the user awesome new artistic power. Improved efficiency makes the hard work smoother and more fun, and with the industry's most comprehensive multiplatform support, customers can now launch their games on 21.

– About the Institut Georges Méliès:
L'Institut Georges Méliès is assisting for several years students willing to start their own business. The institute owns a project accelerator section that gathers entrepreneurs and digital image creators. Georges Méliès accelerator section continues to support the creation of innovative companies in the areas of image and digital creation and now supports the development of high level creative projects that will feed into the image sector.